20 Best Watches for NATO Straps (Across All Available Brands)
There are few things that can change the vibe of a watch like the strap that you choose to fasten it to your wrist with. They can help you to swap between different styles, like throwing a crocodile strap on a vintage Rolex Datejust to help distinguish the look from the casual everyday feel of its stainless-steel bracelet. There can also be functional benefits to the strap that is paired to a watch.
Take for instance the classic expandable rubber strap paired with many of the entry level Seiko divers. Although many will argue that there is no perfect strap for a watch, I am here to poke holes in that nonsense. The perfect strap exists and it comes in the form of a NATO strap!
As much as this statement may seem hyperbolic, it's actually true, for me anyway. If a watch doesn't look good on a NATO strap, it doesn't belong in my collection. That is not to say that I don't mix it up from time to time or have watches that live predominantly on their bracelet, but they still need to work on a NATO strap to find a permanent (as permanent as a watch collectors collection ever is) spot in the watch box.
What exactly is a NATO strap? Dating back to the original G10 style, the NATO strap can date its history back to 1973 with the British Ministry of Defence. These straps were originally introduced by the military to help reduce the risk of losing your watch by having two contact points with the watch. This allows a watch to remain fastened to your wrist, albeit floppily, in case of a spring bar failure.
Another benefit to these original straps was the reduced movement of the watch on your wrist due to being secured by the additional loop placed under you're watch. Given that these original straps were made of Nylon, they had inherent durability and were ready for any task the military could through at them and could be easily cleaned when necessary.
Today, NATO straps are no longer only reserved for Military timepieces nor are they exclusively produced from Nylon, but they still give the appearance of a durable watch capable of anything. In many ways, this look is what draws me in. Beyond the prevention of a catastrophic spring bar failure, which I've yet to experience, there are few features of a NATO strap that are unable to be matched by a variety of other straps available.
Despite this, the NATO strap remains my litmus test. If it looks good it can stay, if it looks out of place, then it has got to go. Now that we Know what we're looking for, let's take a look at 20 great watches for NATO straps. Understanding that this could quickly become just a list of my own collection or favorite watches, I am going to instill some guidelines.
Despite the fact that most watches look good on a NATO strap, I am going to rely on the opinion of the brands themselves and only include watches that are sold on a NATO strap or come with one as part of the accessories. In addition to this limitation, I am going to limit myself to only one watch per brand.
We are going to see 20 different brands and I am excited to see where this journey will take us! There will not be a price limitation in this list but given that NATO style straps tend to look best on a tool watch, I wouldn't expect to see any Haute Horlogerie on this list. Before I give myself anymore outlandish rules, let's dive into the 20 best watches for NATO Straps.
The Real Deal
When considering the military inspiration of the NATO strap, it seems a logical place to start this list with a couple of brands still producing these Mil-spec timepieces. The first of these watches is by Marathon, the Canadian based watchmaker that has produced simple watches for several branches of Military and can still be found on the wrist of those in service today. Their classic Navigator Pilot in black is some of the best roughly $420 you can spend in this hobby.
The watch features a black resin case, tritium tube dial, and an almost indestructible Swiss quartz movement.  The watch also features a 12-hour bezel that will allow you to simply track one additional time zone. It may not be a very luxurious watch, but if you are looking for a watch that looks at home on a NATO strap you need to start here.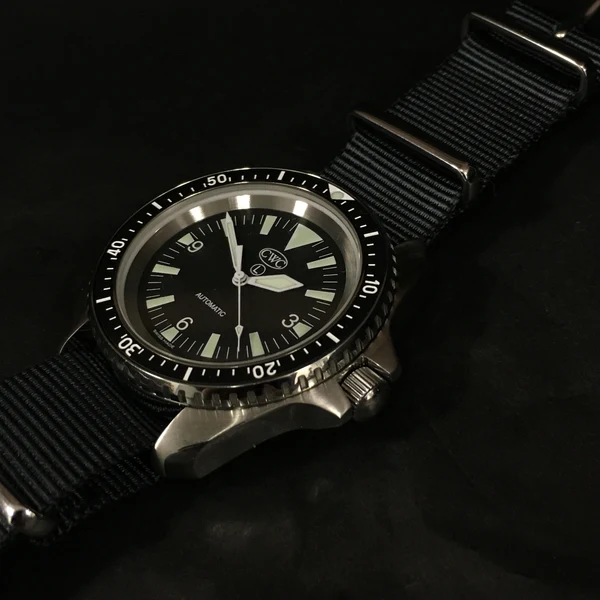 If you cross over the pond, the Cabot Watch Company, commonly referred to as CWC, fills a very similar role to that of Marathon, producing Mil-spec watches designed for a purpose. The history of CWC even intertwines with luxury watch powerhouse Rolex, as they replaced the Rolex MilSub for the British Royal Navy in the 1980's. The RN Auto MK2 features 41mm stainless-steel case, sapphire cystal, and an impressive 300m water resistance.
The RN comes in several variations and despite quartz being the most common option, this specific model is powered by a Sellita SW-200-1. The fixed spring bars make sure that this watch is worn the way that it was intended, on a NATO strap. Given that this design is based on a Mil-Spec and not a design team, this watch shares several similarities with the iconic MilSub. This CWC will set you back roughly $1500, but given the history and timeless military diver aesthetic, the price of the alternative MilSub makes this seem like an absolute steal.
Entry Level Luxury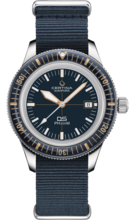 In the world of entry level Swiss luxury watches, there are few brands that can deliver as much punch as those in the SWATCH group. Starting that off today is a watch from one of the brands that often gets overlooked in this group, Certina.
The DS PH200M is a vintage inspired dive watch with all of the updated specifications that we could hope to get from a watch at just under $1000. The 43mm stainless-steel case, ceramic bezel, and sapphire crystal help take this vintage aesthetic and put it in a package that you can feel very comfortable actually diving with.
Certina's relationship to Swiss movement manufacture ETA, allows this watch to remain at a very competitive price point while also being powered by a modified ETA Powermatic 80.611 with 80-hour power reserve. This vintage aesthetic plays very nicely with the included NATO strap and allows this watch to cement itself as a true tool watch.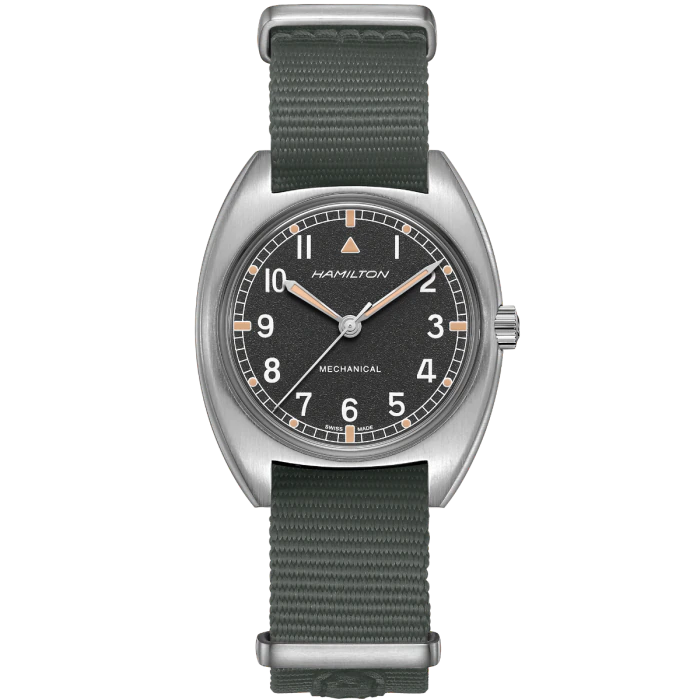 Another SWATCH group powerhouse at the entry level is Hamilton. They are better known in the United States as a historical American brand but have recently gained notoriety as the Swiss made watchmaker of Hollywood. Despite its vintage look, the Hamilton Khaki Aviation Pilot Pioneer Mechanical highlights the very best of modern-day Hamilton.
Although this model may not have any Hollywood accolades under its belt, it would certainly look right at home on any 1970s war story. The 36mm rounded cushion case design is a historical characteristic of the original watch that could have easily been modernized but thankfully was not. The H-50 hand-wind Swiss Made modified ETA movement, on the other hand, has been modernized and has the 80-hour power reserve to prove it.
This balance of new and old allows this watch to perform double duty as your vintage inspired timepiece and everyday wearer. The NATO strap on this watch helps to keep this balance, remaining historically accurate to the original while also providing you the performance an everyday wearer demands. At just under $850 this watch presents a tremendous value for money and perhaps the chance to check off 2 watches on your list in one.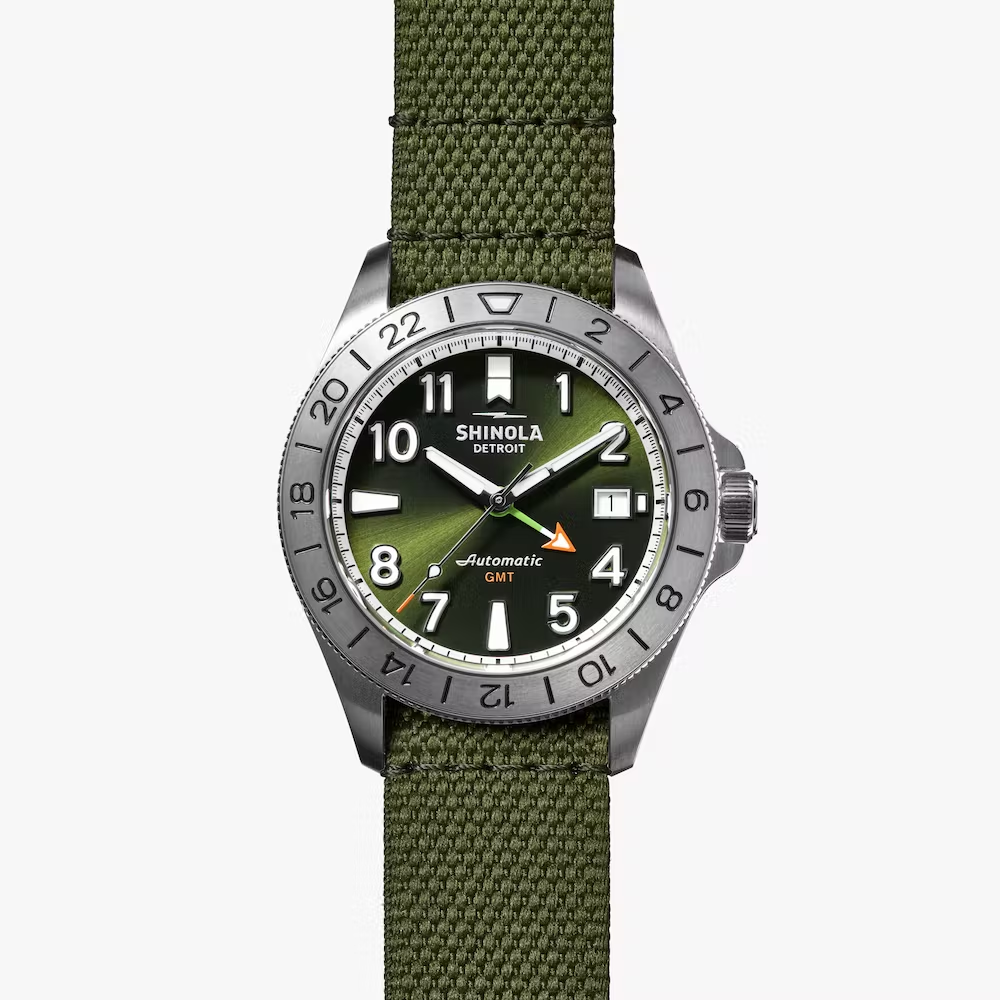 One brand that doesn't get a lot of love from watch enthusiasts is Shinola. They stormed onto the scene in 2013 promising to bring watch manufacturing back to the America, but after some questionable marketing slowed their progress, they never quite recovered.
Thankfully, that's not where this story ends and since focusing on many pieces that appeal to fans of the brand and enthusiasts alike, they have had somewhat of a resurgence. One of their latest models, the Monster GMT, is a great example of this attention to detail.
The 40mm stainless-steel case, sapphire crystal, and Sellita SW330-2 Swiss Made movement are all hallmarks of a modern "caller style" GMT in the entry level luxury market. What helps this watch to stand out, is their attention to detail. Their newest olive dial is a stunning addition to the lineup and its pairing with a stainless-steel bezel helps to give a classic look to this otherwise modern execution.
Despite coming on a beautiful stainless-steel bracelet, this watch really shines on the included green NATO strap. The watch assumes a new identity on this strap and leans heavily into its tool watch aesthetic. For just under $2000 this watch offers a lot of versatility for a brand that still has something to prove.
4. Seiko Prospex SPB239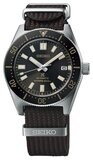 It is impossible to make a list focused on tool watches and not include fan favorite Seiko. Of all their illustrious models that look at home on a NATO strap, there is one that stands above the rest. That watch is the 62 Mas recreation in their Prospex line known as the SPB239.
The watch features a 40.5mm stainless-steel case, In-House Seiko 6R35 movement with 70-hour power reserve, and sapphire crystal. Playing into the ruggedness of this watch is this specific color way that comes paired with a set of NATO straps.
The charcoal dial and gilt accents on the bezel help to give this watch a vintage aesthetic, but the included NATO straps make sure that you can do anything with this model. A classically designed dive watch from Seiko at a modest size is a real treat at any price, let alone something at the entry level luxury mark.
The In-House movement may have its detractors, but at roughly $1200, I would much rather have robustness and reliability over accuracy. There is a price point where that mindset starts to shift, but it certainly isn't here. If you are after a modestly sized dive watch in the entry level luxury segment you are spoiled for choice, but there is no one that will work as hard for your money as Seiko.
5. Zodiac Super Sea Wolf Automatic Brown Leather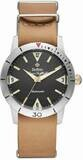 If you are searching for your next watch and the previously mentioned Seiko SPB239 came up, I can almost guarantee that this next watchmaker has as well. Zodiac is a brand that is steeped in dive watch history. They debatably even beat Rolex to the punch in 1953 to introduce a modern dive watch with their iconic Seawolf series.
As is often the case, however, the winners are the ones to write history and this iconic model failed to receive the notoriety of the other brands in this race. After a rocky couple of decades following the decline in popularity of mechanical watches, Zodiac seemed like another victim of the quartz crisis. That was until an unlikely hero in the Fossil Group resurrected the company and allowed them the freedom to create the iconic watches they were once known for.
The Super Sea Wolf is their new line of fully capable dive watches featuring a 40mm stainless steel case, STP 3-13 Swiss movement, and sapphire crystal. This particular model comes fitted with a steel bezel, charcoal dial with faux lume triangle indices and dauphine hands.
The watch comes paired with a nice NATO strap made of leather and I love the look! To all of the die-hard "no leather on dive watch" crowd, despite defying all logic, this leather NATO strap not only works, it elevates this watch. At roughly $1200, this watch is certainly a formidable opponent to Seiko, or any brand, at this price range.
6. Oris ChronOris Date 01 733 7737 4053-07 5 19 23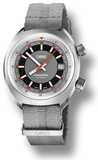 Another brand that dominates the entry level luxury segment is that of Oris. The independent watchmaker is an enthusiast favorite for many reasons. Their dive watches earn much of the fanfare, but when you search outside of the normal suspects you can find some real gems. The ChronOris is a unique model.
It has dual crown case with an inner-rotating bezel, not for timing an elapsed dive, but for timing race laps. This watch no longer sports the chronograph of its predecessor, but the unique look and heavy-handed motorsports inspiration help differentiate this watch from the rest of the Oris collection. The watch features a 39mm stainless steel case, sapphire crystal, and inner rotating timing bezel.
The available gray NATO strap really helps to allow the watch to take center stage. There is no distraction from a rally strap or stainless-steel bracelet with this iteration which allows you to get a pure representation of this eccentric watch. Coming in at a price of right around $1750 this watch would make a great addition to any enthusiast, with or without a passion for motorsports.
7. MeisterSinger Metris ME903
There are a few things most people take for granted when it comes to the design of a analog watch. Two distinct hour and minute hands being one that many consider a necessity. One brand that has decided to challenge that design is MeisterSinger.
Their signature look of one handed watches may seem jarring at first, but once your brain gets used to it, is actually a pretty simple adjustment to make. The Metris ME903 carries on this distinct look, but offers this experience in a more casual package, thanks to the included NATO strap.
The watch features a 38mm stainless-steel case, modified ETA 2824-2 movement, and sapphire crystal. Thanks to the included NATO strap and impressive 200m of water resistance this watch can truly be a one and only watch. At the attractive price of roughly $1800, however, this fun one from MeisterSinger doesn't have to be!
Mid-Tier Luxury
1. Nomos Glashutte Club Neomatic Siren White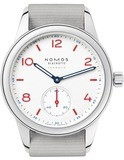 There are few brands that execute the Bauhaus watch design as effectively as Nomos. This relative newcomer to the watch industry stands out with their clean and minimalist designs that are as comfortable at a formal occasion as they are with jeans and a T-shirt.
The Club Neomatic is perhaps the clearest example of this versatility. The 37mm stainless steel case wears surprising large, while the white dial offers just the right amount of pop. The red accents and sub dial layout help to give this watch a more casual look than some of the other pieces in the collection. This watch is powered by the in house DUW 3001 automatic movement which is finished to a standard consistent with watches out of the Glashutte region.
When paired with the optional NATO strap the casualness of this watch really comes to light. If you're after the versatility of a Rolex Oyster Perpetual, but your budget maxes out at just under $3200, this is one of the first places you should be looking.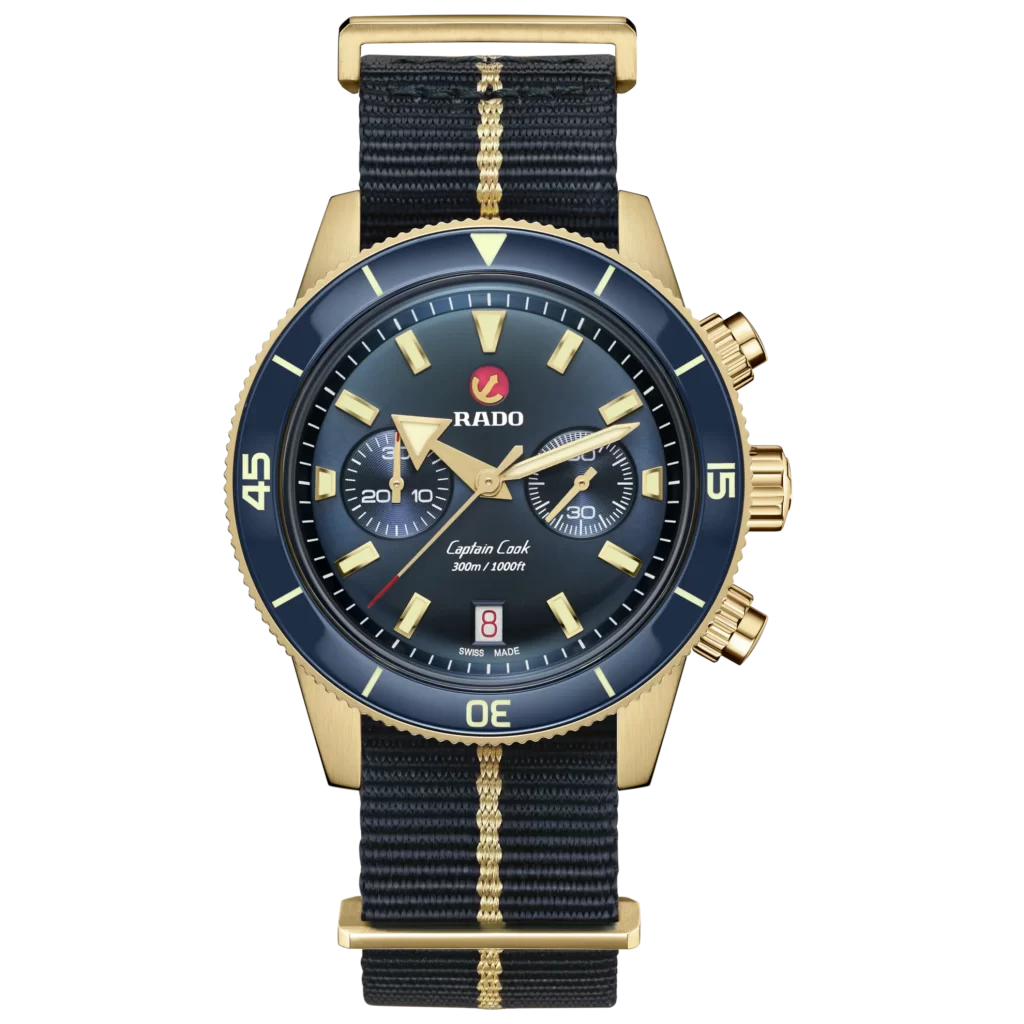 When looking at watches with a prestigious dive history, it is hard to ignore a brand like Rado. Often known for their more artistic designs and use of unique materials, the Captain Cook line is as inspired by the past as any watch in production today.
The Captain Cook Chronograph in bronze manages to placate to both of these sides of Rado. The vintage aesthetic is definitely present carrying over many of the design cues that have made both the original and recreation Captain Cook a hit. The concave rotating bezel, arrow shape hour hand and pivoting red anchor on the dial are all present.
The 43mm case made of bronze, however, takes this vintage aesthetic and gives it a modern twist. Sure, bronze is far from the most exotic material that Rado has been known to use, but the execution here is spot on. The watch is powered by the R801 movement featuring a Nivachron hairspring allowing this watch to be antimagnetic.
When paired with the accompanying blue and gold stripped NATO strap, you get the feeling that this watch is truly ready for anything. Thanks to its impressive 300m water resistance that tool watch look is more than just a design trait. At just over $4400, this watch offers the benefit of a chronograph function without compromising on durability or water resistance at all.
3. Bell & Ross BR V2-92 Military Green
Known for their square instrument panel inspired deigns, Bell & Ross is the very definition of a marmite brand. Despite thinking that they are interesting, the overly "tooltastic" design never appealed to me. Thankfully, Bell & Ross offers watches for the more reserved.
The BR V2-92 meets many more of the traditional design characteristic we think of when we see a watch. The 41mm round stainless-steel case with crown guards, unidirectional rotating bezel, and sapphire crystal with anti-reflective coating are not what most people imagine when the think of Bell & Ross. The matte green dial and matching green NATO strap help to give this watch a vintage military aesthetic.
The watch is powered by the BR-Cal 302 movement, which is a derivative of the tried-and-true Sellita SW-300. Coming in with a price tag of roughly $3300, this watch offers an entry point into the brand, while offering something different than just a watered-down experience of their iconic model.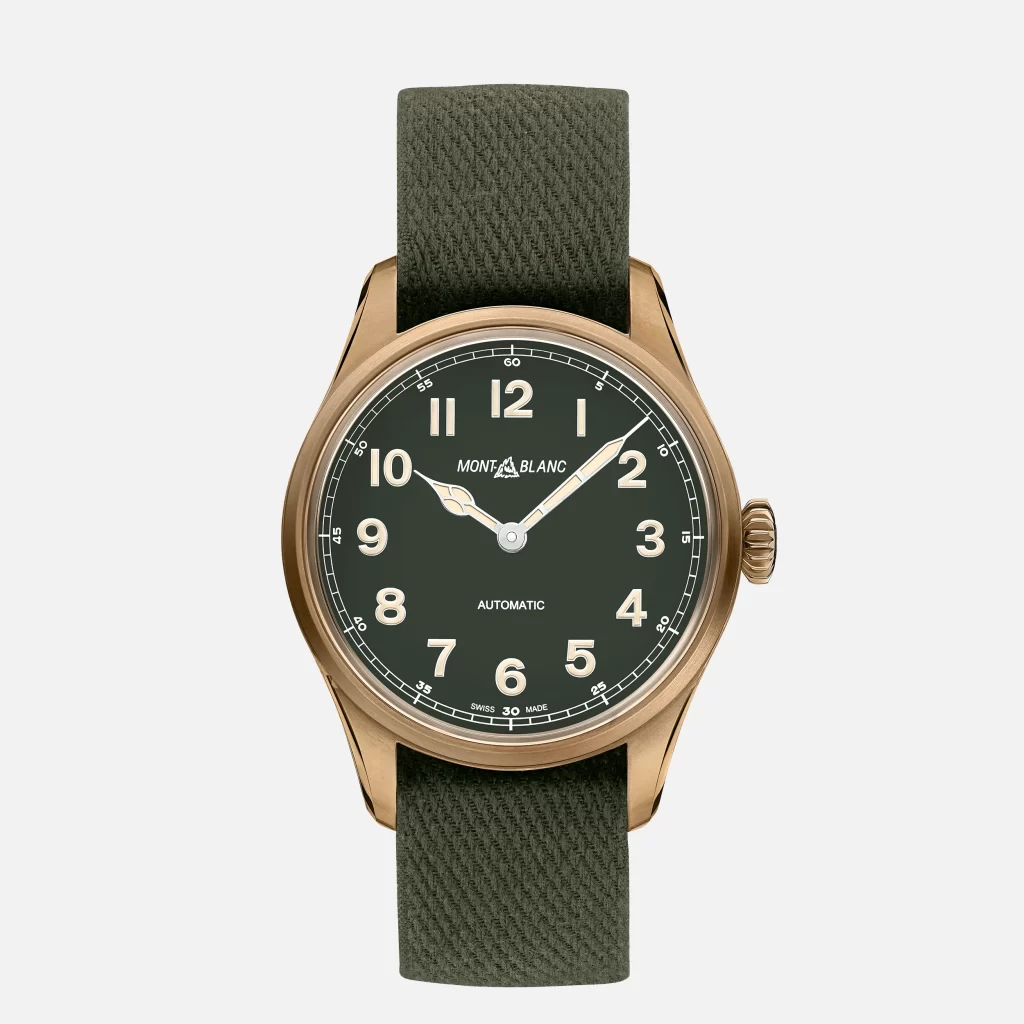 When you think of the brand Mont Blanc, many people conjure up the idea of their primary business in the form of a luxury writing utensil. With the use of their luxury brand name cache and strategic acquisitions in the form of prestigious Swiss movement manufacturer Minerva, Mont Blanc has been able to carve a place in the Swiss luxury watch space that feels as though they have always occupied.
The 1858 automatic Limited Edition plays on this heritage and creates a timepiece that feels very authentic. The 40mm Bronze case gives this watch a very rich look when paired with the army green of the dial and matching NATO strap. Despite the ownership of Minerva this watch is powered by the MB 24.15, which is a modified Sellita SW-200.
At just under $3250, this watch would have seen a substantial price increase to include one of the highly sought-after Minerva calibers and given the aesthetic on the excellent NATO strap, I would choose a more robust movement and lower price any day of the week.
5. Longines Spirit L3.811.1.53.2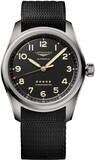 There are few brands in the watch world with as much history and breadth of their range as Longines. They have pumped out some of the most elegant dress watches the 1950's could provide you while simultaneously creating robust field watches that were ready for military action.
In many ways this wide range has stayed with the company with them in their modern position within the SWATCH group. The example for this list leans heavily into that history, while maintaining a look of modern luxury. The Spirit L3.811.1.53.2 features a 42mm titanium case, sapphire crystal and anthracite dial with crème colored lume. The watch has the appeal of a vintage watch while offering all the modern enhancements a watch enthusiast could ask for.
The watch is powered by the L888.4 automatic movement which will give you a 72-hour power reserve. When paired with the included NATO strap this watch leans heavily into their military heritage. Coming in at roughly $2750, this may not be the cheapest military inspired watch on this list, but thanks to the legendary build quality and durable construction, you are getting what you pay for.
6. Bremont S300 White on NATO Strap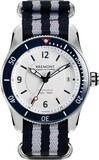 If there is one watch brand responsible for sparking the flame that has reignited the mainstream interest in British watchmaking it's Bremont. Founded in 2002, there are few watchmakers that have as dedicated of a fanbase as what Bremont has been able to foster.
The brand is not without its detractors, however, claiming that their marketing skills may out pace their skill in watchmaking, but to anyone who has held one in the hand, their watches are deserved of the hype! The S300 features a 40mm stainless-steel case, BE-92 movement, and sapphire crystal. The white dial, black bezel and black numerals help this watch stand out while on the wrist.
When accompanied with the matching stripped NATO strap, this Bremont S300 looks ready for anything you can throw at it. Coming in at just under $3800, the S300 will allow you to experience the prestige of British watchmaking, while being ready for anything else rest of the world can throw at you.
Luxury on a NATO-surprisingly not an oxymoron!
1. Tudor Black Bay 58 925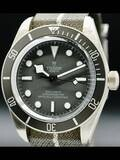 Rolex is undoubtedly the king when it comes to the luxury watch market. Not the best by any means, but they certainly have the most influence on the industry. It is no surprise then that their sister company Tudor has sky-rocketed in popularity since a refresh in 2012.
The popularity of the Black Bay line is largely responsible for this spike in public interest. It wasn't until Tudor released the Black Bay 58 however, that many people yearning for a modern reintroduction of a vintage Submariner were truly satisfied (or as satisfied as a watch enthusiast could ever be). Since becoming one of the hottest watches in the market, the Black Bay 58 has turned out several iterations promising to expand the Hans Wilsdorf stranglehold to new corners of the watch market.
That's where this watch comes along, the Black Bay 58 925 in silver. Not a very common material by todays standards, but the precious metal 925 silver case allows Tudor to introduce luxurious materials to a whole new audience. The 39mm case of the original Black Bay 58 remains, with a taupe dial and bezel to help compliment the slight warmer hue of the silver alloy.
This watch looks purpose built when paired with the accompanying NATO strap and the only person who will know you have a truly special watch on your wrist is you. Powered by the MT5400 movement, which is COSC certified, the only thing separating this watch from that of its more recognizable bigger brother is the modest price of roughly $4400.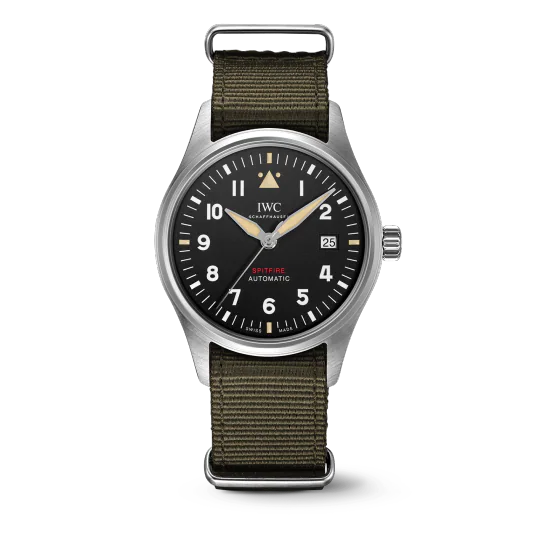 When looking at aviation inspired watches there are few brands, if any, that carry as much brand cache as the International Watch Company, or IWC. They generally tend to lean heavily into the bigger-is-better sizing philosophy which can often alienate large subsets of the watch collecting community.
The IWC Pilot's Watch Automatic spitfire breaks away from that pattern and offers an aviation themed watch, but at a modest 39mm size. When paired with the excellent green NATO strap, this watch will please several wrist sizes. The faux patina and traditional numeral lay out help to give this watch a look of a vintage watch.
While the sapphire crystal and modern 32110 Caliber movement remind you that you are not. In terms of an IWC watch, the roughly $4900 is a great entryway into the brand. When you consider the history and capability that IWC possess, this watch is worth every penny they are asking for.
3. Omega Seamaster Diver 300m 007 James Bond Edition on NATO
The partnership between Omega and the Bond franchises is well documented and often cited as the savior of the Omega brand as we know it today. The watch that many conjure up when recalling the "Bond watch" however, is the iconic big crown Rolex Submariner and not the Brosnan era Seamaster that saved the day. 
Not just the Rolex Submariner, but specifically the Submariner on an aptly named "Bond NATO". Move forward several iterations of "Bond watch" and what do you have? An iconic go anywhere do anything watch that despite having an amazing bracelet, truly looks best on a NATO strap. The Seamaster Diver 300m James Bond edition features the same 42mm case, this time fashioned out of grade-2 titanium, 300m water resistance and Co-Axial Master Chronometer 8806 movement.
This watch fits the aesthetic of bond perfectly, while managing to provide some new features more akin to a watch enthusiast than an international spy. Coming in at roughly $8100, this watch will be ready for anything, whether it's battling the evil international villains or simply watching them in the cinema.
When looking at the origins of dive watches, Blancpain is often cited as the original manufacturer of the watch as we know it today. The iconic time elapse rotating bezel and waterproof case design were all seen first on a Blancpain Fifty Fathoms watch.
Despite a rough patch after the quartz crisis, Blancpain can claim one of the most illustrious histories in all of watchmaking. With a history dating back to 1735 their tradition of prestigious watchmaking is second to none. This modern recreation of the Blancpain Fifty Fathoms Grande Date incorporates much of what has made this great brand what it is today.
This watch features a robust 45mm stainless steel case, sapphire crystal and bezel, as well as a durable and beautifully finished NATO strap. What differentiates this watch from others on the list, however, is that this watch is truly a premium hand finished luxury piece.
With a beautifully hand finished Caliber 6918 hand wind movement with 120-hour power reserve and big date function, this watch features complications more typically seen on a watch from the Holy-Trinity and not a simple dive watch. The price is certainly more in line with the Holy-Trinity at roughly $17500, but this is a premium watch that doesn't require you to take it off anytime you so much as think of doing something adventurous.
5. Breguet Type XXI Limited Edition 3815TI/HM/3Z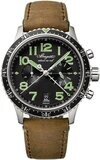 Breguet is a brand that can stake claim to much of what we take for granted in the world of modern watchmaking.  They even have their own numeral style named after them, not even the almighty Rolex can make that claim. Despite many of their watches having a more traditional feel, there is one of their models that feels like it is still fit for active duty.
That watch is the Type XXI Limited Edition. Alright, I admit it, I am cheating with this one! Breguet doesn't sell this model on a NATO strap. (Please hold your audible gasps and shocked faces) This one is on Breguet! I don't know if I have ever seen a more perfect example of an ultra-luxury watch just begging to be put on a NATO strap.
This watch features a 42mm case made of titanium and a rotating bezel. The 584Q/A movement is everything you would expect from Breguet, albeit not is such a robust frame. What really sells me on this watch, however, is the greenish numerals and hands. Although seen in some other examples recreating watches from this era, this detail feels very fun with this watch.
Coming in at a price of just under $15000, this watch is not cheap, but manages to blend the worlds of vintage recreation, modern tool watch, and elegant mechanical marvel so well it forced me to break my own self-imposed rule!
Wow! There it is, 20 of the best watches for NATO straps. We have explored brands from all over the world and watch market as well. What surprised me the most is how well a luxury watch plays with the look of a NATO strap. It's often seen as crime against horological humanity to fasten you're watch with a NATO strap, but I think I may have opened up a whole can of worms for myself.
Thankfully, I'll most likely never be in the position to have to place a NATO strap on a watch costing more than many used cars (phew….dodged a bullet there), but I like to know that if ever found myself in that "tragic" situation I could be brave enough to pull it off!
The NATO strap will always be a staple of the watches in my collection. Partly because I love the look and functionality but also because good leather straps are just so damn expensive and I am a cheapskate! Hopefully, this list was able to shed some light on some watches that you may not have thought of while searching for the best NATO strap watches.
If you find yourself still searching you can always do what I did with the Breguet and just say "Rules, what rules? I make my own rules!" and buy your own NATO! Either way, you are going to end up with a watch that will be ready to take on any task you can throw at it!
Happy watch hunting!