25 BEST Dive Watches Under $1000 (Luxury Meets Affordability!)
There are few watch designs as universally admired as the dive watch. Very few of us watch enthusiasts will ever use these timepieces to help us reach the depths of a kiddie pool, let alone the 100+ meters they're specified for. But man, do we look cool wearing them.
Admittedly, I am a newbie to the world of dive watches. I've been an enthusiast for a long time but have always found myself attracted to a bezel-free design. It wasn't until recently that I found myself lusting after a dive watch that broke my arbitrary threshold for an expensive timepiece. That boundary for me is $1000, and the watch that changed how I look at divers was the Tudor Black Bay 58.
As much as I love the Black Bay 58, it opened my eyes to just how much value there is in the many dive watches I tried that didn't shatter my arbitrary "expensive" watch boundary. In this article, we will look at 25 of the best dive watches you can get for under $1000. 
To keep things interesting, I will limit myself to only 1 watch per brand so that we will look at 25 different watchmakers on this list. Time to sit back, get comfortable, and get your credit card ready as we dive head-first into the value-packed end of the dive watch segment.
Before we get started with the list, let's first take a minute to familiarize ourselves with exactly what a dive watch is, the brief history, and what you should be looking for in a dive watch under $1000.
What is a Dive Watch?
According to ISO standard 6425, a dive watch must be able to achieve 100m of water resistance, have a method to measure elapsed time and be visible at depth. These watches need to be individually tested to meet this standard and be labeled as certified dive watches.
In execution, these criteria typically result in a watch with water-resistant seals and gaskets, an internal or external unidirectional bezel, and luminescence on the indices of the dial and pip of the bezel. There are more specific requirements that ISO will look for, such as lumed indices at every dial marker, but for our purposes, the cliff notes version will suffice.
History of the Dive Watch
1953 was a hell of a year for dive watches! The Blancpain Fifty Fathoms had been released a season before, and the Rolex Submariner, aimed at professional divers, and Zodiac Seawolf, designed for more "casual" underwater explorers, debuted at the Basel Watch Fair. 
Sure, Omega released the Marine in 1932, beating all other brands by over 2 decades, but that watch looks more like a dress watch by today's standards, and it came on a leather strap. Everyone knows you can't put a leather strap on a proper dive watch, so let's just forget about that one.
The sixties and seventies saw the boundaries pushed in terms of what a dive watch needed to be. We witnessed the introduction of future dive watch staples as Omega released the Omega Seamaster 300 in 1957 and Seiko released the 62MAS in 1965. 
The introduction of the Sea-Dweller by Rolex in 1967 raised the bar again as the race to the bottom began. These pieces laid the foundation for mainstream dive watches and have inspired the design of many of the entries on this list.
What to Look for in Watches Under $1000
Now that we know a little bit more about what a dive watch is, what should we be looking for in the under $1000 price range? As mentioned earlier, to be considered a true dive watch, a timepiece needs to be ISO 6425 compliant. 
Is this necessary? I don't really think so. I look at it the same way I do a COSC-certified movement. Is it a nice benefit and good to have? Absolutely! Do I need to have it to find enjoyment in a timepiece? Not at all.
You should still look for the basic attributes required from the standard. These watches may fall in the "dive inspired" category, and I am OK with that. I want to see a minimum of 100 m of water resistance, a timing bezel, and lumed indices on a dial. The watches on this list will have those qualifications, but whether they strictly adhere to every minute detail is something I am less concerned with.
There are some other attributes you should aim for on a dive watch at this price that are not necessarily required but are welcomed additions. A screw-down crown, although not necessary, helps to give confidence that any unexpected water ingress is unlikely to happen. 
Another area to look for at this price is a reliable movement. Whether quartz or mechanical, you should expect a more robust and reliable movement at this price point. The final characteristic to look for is quality finishing. These are some of the traits that separate these watches from their under $500 counterparts.
The Best Dive Watches Under $1000
Seiko Prospex SPB317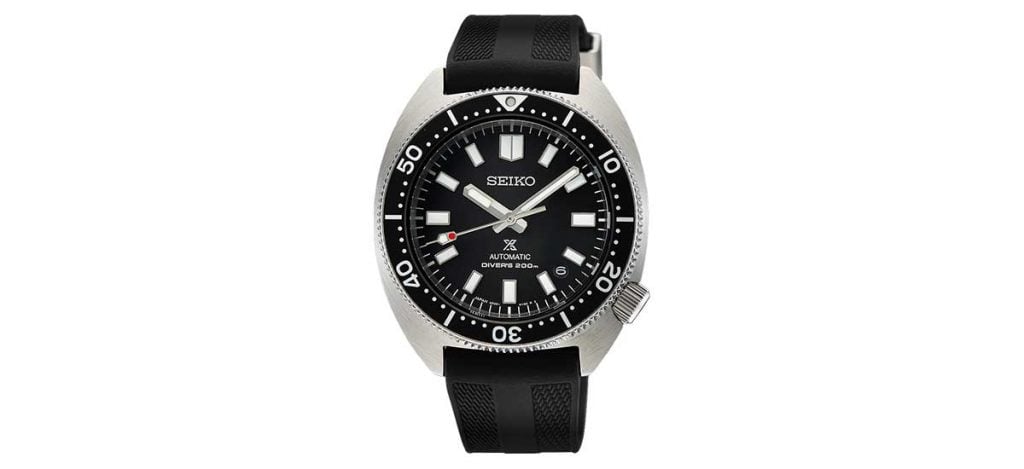 In the world of value-packed dive watches, Seiko is king. Do they have the ideal option at under $1000? Not necessarily, but if there's a brand that has built its reputation on this segment, it is the Japanese powerhouse. Despite being the leader in the market, Seiko has recently started to price itself slightly above the $1000 price range with many of its new releases.
Thankfully the SPB317 falls just below this threshold at an MSRP of $900 on a rubber strap. This "slim turtle" draws inspiration from the 6105-8000, the lesser-known case design from the series that brought us the Willard. This watch features the 6R35 Seiko in-house movement that comes with a 70-hour power reserve and robust construction. 
The 41mm fully brushed case size is a welcomed addition to the Seiko lineup, as is the 12.3mm case thickness. If you're looking for a Seiko dive watch that can accompany you with a diving suit or a dress suit, this is the watch for you.
Longines Hydroconquest Steel Black Dial L3.740.4.56.6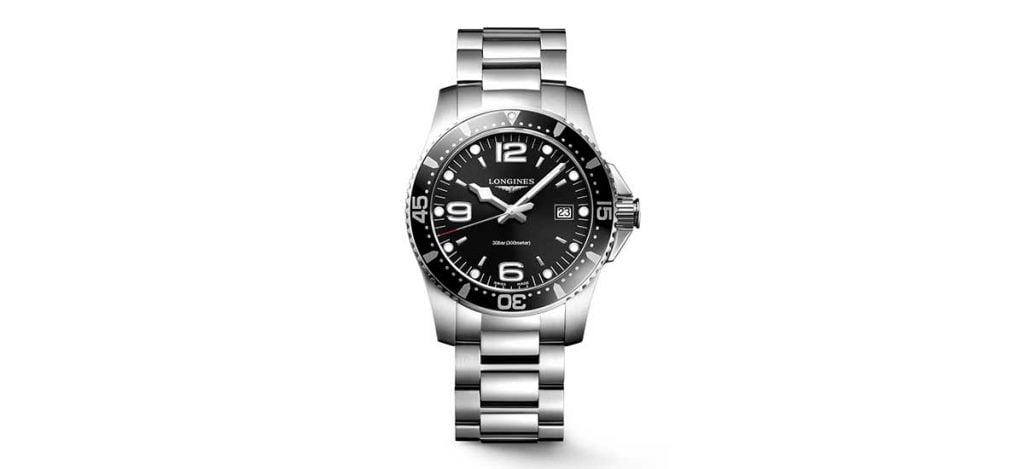 A brand not often associated with the under $1000 segment is that of Longines. The Swiss Luxury brand is known for many of its heritage and chronograph pieces costing several multiples of our price restriction. In all fairness, the Longines Hydroconquest with a quartz movement falls just over our limit at an MSRP of $1050, but given the brand's prestige, I am willing to look the other way.
The Hydroconquest is available in many configurations, but this model features a 41mm case size paired with a stainless steel bracelet. The design is one of the more conservative on our list, but that is to be expected for a brand with a history of competing directly with Rolex. If you want a watch from a brand that people will recognize, this may be the best option on the list.
Squale Super-Squale Blue Supermblbl.rlbl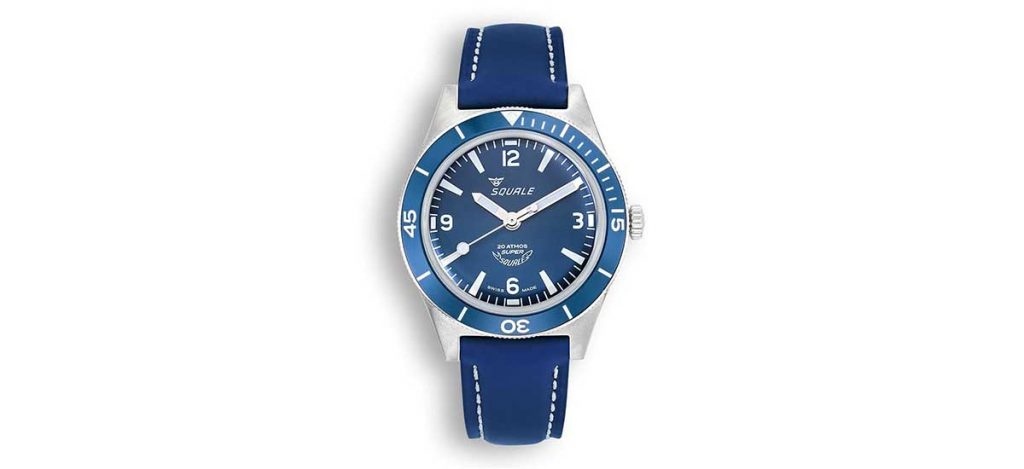 Squale is an interesting brand amongst watch enthusiasts. One side focused on creating well-built homages to the Rolex Submariner while the other produced their own iconic, albeit less well-known, dive watch in the 1521.
In recent years, however, Squale has reached into their historical archive and brought us more designs that draw upon their own unique history as one of the most prolific case makers from the glory days of dive watches. 
The Super Squale is a 38mm skin diver featuring a Sellita SW-200-1 movement. This particular model features a blue dial and bezel combo and comes paired with a blue leather strap for a price of roughly $975.
The "Explorer" dial on this model helps to give this model a unique look amongst the bloated competition of skin divers at this price point. If you are looking for a unique look on a classic design, the Squale Super Squale is a great option for you.
Unimatic U1 Classic UC1
Unimatic is a great example of what a microbrand can become if they offer something that isn't available in the mainstream market. The simplistic and brutalist aesthetics are not often ones that often get combined in terms of design.
The Unimatic aesthetic is one of the most recognizable from across a room, which for a microbrand usually only happens when someone mistakes your watch for a Rolex. The Unimatic U1 Classic is exactly what its name implies; classic.
The 41.5mm brushed case, sapphire crystal, and screw-down crown help to give this watch the robustness to match its aesthetic. At $695, the NH35 movement is certainly a sticking point for many spec-hungry watch enthusiasts.
Although you can find this movement in more affordable options, the unique design from Unimatic will not be there. If you're looking for a watch that favors bold design over movement specs, this watch is an incredible option for you to consider. 
Zodiac Super Sea Wolf 53 Compression ZO9289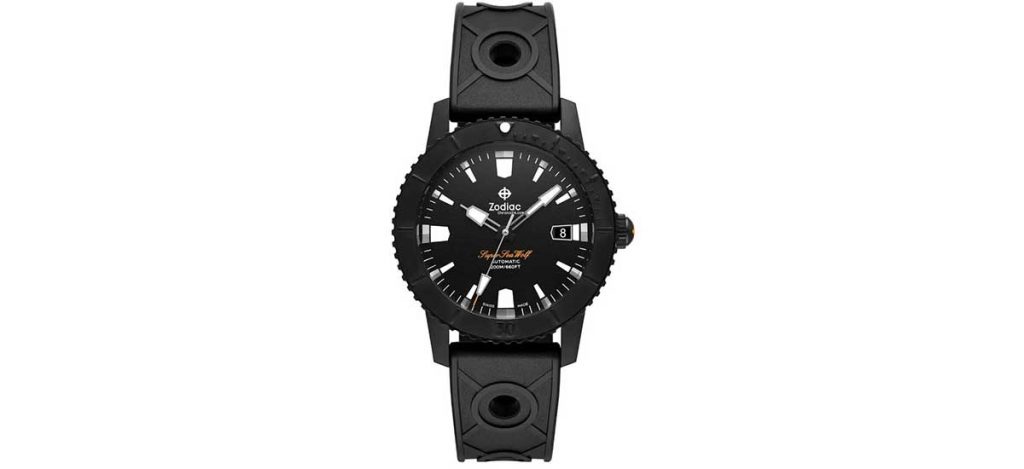 When looking at the beginning of what we recognize as a dive watch, there is only one brand on this list that was right there with Blancpain and Rolex; that is, of course, Zodiac. Despite seeing a rather turbulent last couple of decades, Zodiac is on a path to return to their former glory. 
The Fossil Group is allowing Zodiac to operate like a true microbrand but with the financial support of a large corporation. Thankfully the people behind modern Zodiac have taken this opportunity and truly surprised the enthusiast community.
By diving into their archives, Zodiac has been able to churn out hit after hit, especially with their iconic dive watch series, the Super Sea Wolf. This example is part of their compression series and features a 40mm black DLC plated finish and can be found for an MSRP of $1050 (again, I'm willing to look the other way on this one).
With a black dial, white indices, and pops of orange, this watch is a stealthy modern example of a classic design. The timepiece comes paired with an excellent rubber strap that matches the design flawlessly.
Powering this watch is the STP 1-11, a movement manufacturer owned by Fossil Group, allowing this to fall in that gray area of in-house. If you're looking for an iconic dive watch with a history that rivals the big boys, the Zodiac Super Sea Wolf Compression is an excellent example.
Hamilton watch company is, in many ways, a victim of their own success. Their position as the undisputed leaders of the entry-level field watch has allowed watch enthusiasts to overlook some of their other fantastic watches. Perhaps none of these offerings are as neglected as their flagship diver, the Hamilton Khaki Navy Scuba.
Drawing inspiration from their iconic field watch design, the Khaki Navy Scuba auto offers a unique design that helps distinguish this watch from others in the field. The 43mm stainless steel case and bracelet, H-10 movement with 80-hour power reserve, and ceramic bezel offer some of the very best you can expect for roughly $995. 
Hamilton also gives you something extra at this price point, which is 300 meters of water resistance. If you're looking for a well-built dive watch from a brand with a storied history and specifications to match, the Hamilton Khaki Navy Scuba Automatic is a great option to consider.
In the last 5 years, Citizen has managed to fill the hole left by Seiko in the entry-level dive watch market. Don't get me wrong, Seiko still provides excellent examples at the under $500 price point; they just tend to focus their attention a little higher, as is evident by the SPB317 mentioned earlier. 
As it turns out, Seiko isn't the only brand that can deliver exceptional value in the $1000 price range either, as Citizen has once again released a product that makes us wonder who the real king of Japanese watchmaking is.
This particular watch is the Citizen Titanium Promaster Dive Automatic. This recreation features a crowd-pleasing 41mm case dimension crafted out of super titanium. This enhanced material allows Citizen to offer a more robust material while also reducing the overall weight for the wearer.  
This watch is powered by the 9051 automatic movement with a 42-hour power reserve. The blue dial and matching titanium bracelet on this model provide a very classic look with a unique origin story as well. If you are after a dive watch with a fun history and case material, you'd be hard-pressed to do any better than the Citizen Titanium Promaster Dive Automatic. 
Just because you have a budget of $1000 doesn't mean you need to spend every penny of it to get a great dive watch! No brand understands this statement better than that of Orient. Much like Citizen, the last few years have allowed Orient to fill in some of the gaps left behind by Seiko and their elevating retail prices. 
When the beloved SKX was discontinued in 2018, many people looking for an affordable dive watch began to look elsewhere. One of the most popular alternatives came from Orient and their Kamasu line.
The Orient Kamasu comes in with a case dimension of 42mm, in-house caliber F6922 movement with a 40-hour power reserve, and day-date complication. Despite not having the ISO certification that attracted many people to the SKX, this watch was built to accompany a person in any environment where an SKX was suitable. 
The best part about this watch is its price tag. While the MSRP is $550, you can get the version with the absolutely stunning red sunburst dial for $200-$300 if you shop around. This is a steal when you factor in the amount of watch you get for the price! This dial is a game changer at this price, and if you are looking for a watch that gives you that X factor while not busting your budget, this is the watch for you!
Another brand that can fall under the shadow of others at times is that of Mido. Being part of the SWATCH group has helped give them financial stability but also made the brand to be overshadowed by more prominent entry-level brands like Longines and Hamilton. Mido has a great history, and one of their most famous models is the Ocean Star dive watch.
The Mido Ocean Star Tribute Gradient is going to fit the description of many watches on this list. 40.5mm stainless steel case, sapphire crystal, and a Caliber 80 automatic movement with 80-hour power reserve round out a spec list that any watch at roughly $950 would be proud to offer. 
However, the black/gray gradient dial is the stand-out feature of this timepiece. The fume dial is executed perfectly, allowing the watch to draw upon its vintage inspiration without artificial patination. If you are looking for a watch that draws upon a heritage design but appears like you just took it out of the box today, the Mido Ocean Star Tribute Gradient is a great option for you to consider.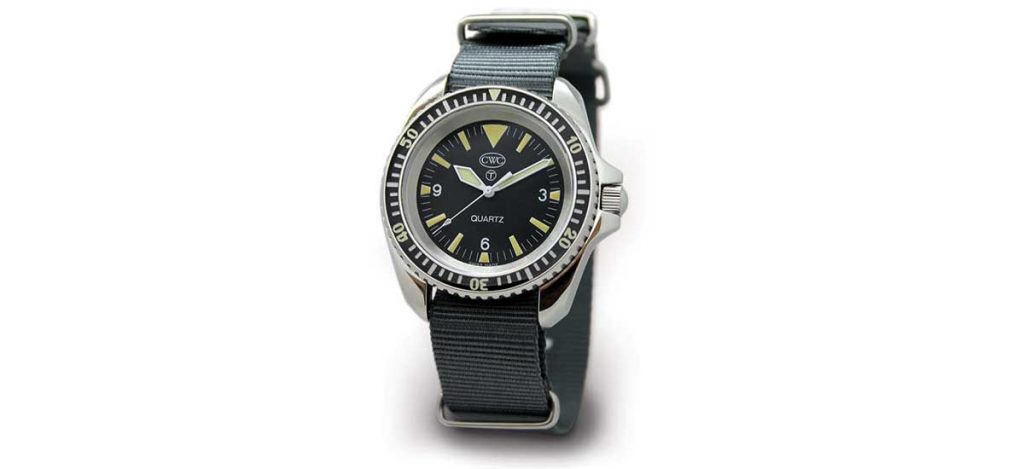 When searching for a dive watch with military history, few can compete with CWC at any price, let alone under $1000. Modern-day CWC is a brand that appears to have accidentally gained popularity. Their focus on military spec watches made them unaware of the fact that they were creating exactly the type of watches many collectors are lusting after.
Thankfully for us, they have started to capitalize on this popularity and have released some timepieces that are ready for military action and Instagram wrist shots. The CWC 1983 Royal Navy Quartz Reissue is made to the exact same specification as the MOD 1983 specification, minus the tritium lume that has since been replaced by Super Luminova.
The watch features a 41mm case and fixed lugs, limiting it to pass-through straps, but given its history, I couldn't picture this watch on anything else. My favorite part of this watch is the Swiss Ronda quartz movement. Not necessarily the movement itself but the robustness that a quartz movement allows for a Mil-Spec timepiece.
CWC proudly displays quartz on the dial, ensuring that the owner knows this decision, both today and in 1983, was not made based on cost savings but because this movement was the right tool for the job. If you are looking for a real tool watch with military history, this CWC 1983 Royal Navy is a fantastic option for you.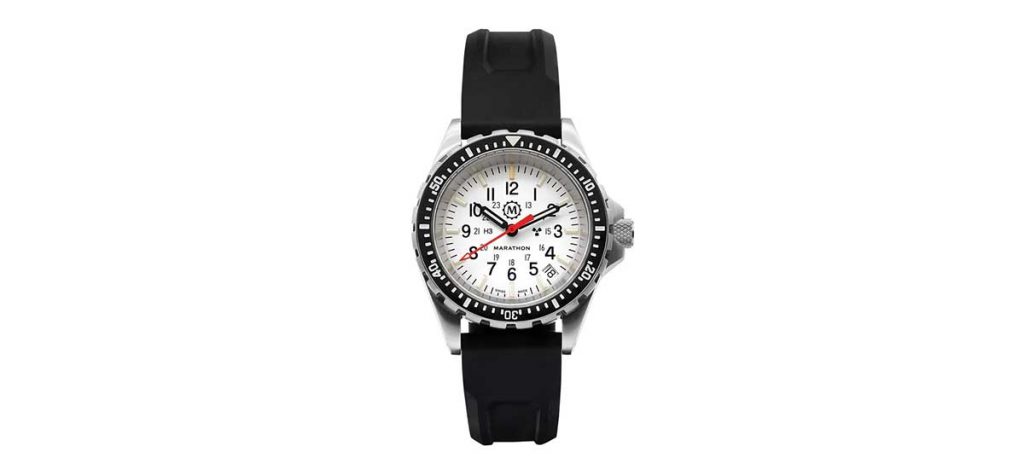 Another brand that caters to Military Spec watches is the Canadian-based Marathon. Their durable construction and use of tritium tube luminescence have helped give these watches a distinct personality in the watch market.
The Marathon Arctic Edition Medium Divers Quartz offers much of what you would expect from a dive watch produced by Marathon. The brutalist design, tritium gas tubes, and robust construction will help this watch meet the demands of even the harshest environments. 
However, the arctic white dial and 36mm case dimension give this watch something not often associated with a brutalist design: a reserved appearance. Coming in at $800, this watch gives you all of the design and function that Marathon is known for at a size that even the smallest of wrists can pull off.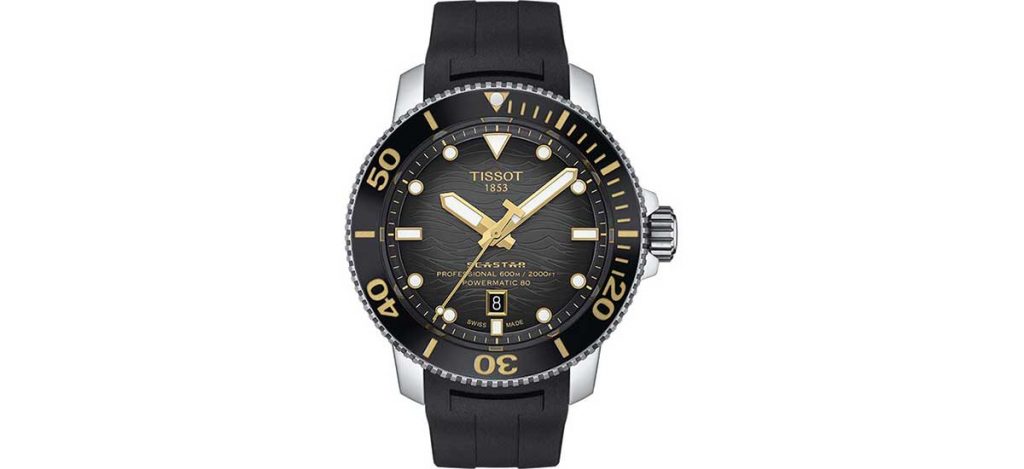 Like many of the brands on this list, Tissot is a part of the SWATCH group. They have a history dating back to 1853 and have produced several signature models in that time. The Tissot Seastar is one of their signature lines that range from casual desk divers to modern high-specification dive watches.
Thankfully for us, even their premium Seastar 2000 Professional Powermatic can be purchased at $995 when accompanied by a rubber strap. The Powermatic 80 with Nivachron balance spring and ISO 6425 certification are class-leading at this entry-level range. 
It is their 2000 meters of water resistance with automatic helium escape valve, however, that truly separates this watch from the rest. This 46mm dive watch will keep up with almost any timepiece you can find from the big boys. If you are looking for an over-engineered timepiece with looks to match, the Tissot Seastar 2000 professional is the watch for you.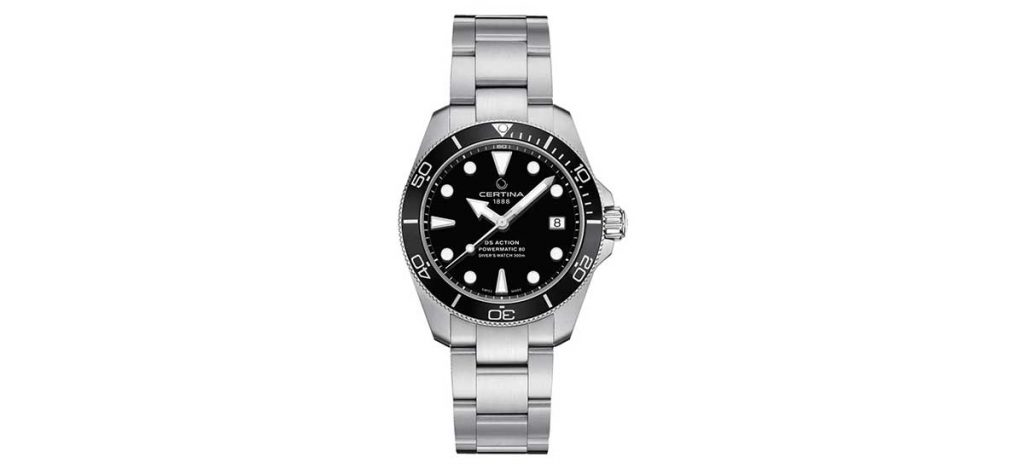 Staying within the SWATCH group, Certina is another brand that can sometimes get lost in the shuffle. Their lack of mainstream availability in many major markets has limited the brand to only those actively seeking them out. Despite this lack of availability, Certina has been releasing some well-proportioned dive watches that aim to fill some noticeable gaps in the market.
The Certina DS Action Diver offers a lot of value for roughly $850. The 38mm stainless steel case and bracelet offer a wearing dimension that is very hard to find in a modern piece. The classic dial layout and handset help differentiate from the many Submariner homages at this price point while remaining unique and timeless. 
The Powermatic 80 is almost standard for these SWATCH group divers, but their quality and specification cannot be ignored. If you are looking for a classically designed dive watch at a modest size that doesn't scream vintage inspired, the Certina DS Action Diver is a great option to consider.
A relative newcomer to the watch scene, Victorinox, a brand known more for their Swiss knives, has quickly made a name for itself in the entry-level watch space. Their timepieces are known for their class-leading robustness. They have been known to test their watches in ways more commonly associated with tragic horror stories than evidence of durability. Who do they think they are? G Shock?
The Victorinox I.N.O.X Professional Diver carries much of the design aesthetic from the original I.N.O.X. line and adds a dive bezel and ISO 6425 certification. The 45mm stainless steel case is hefty, to say the least, but the rubber strap helps the overall wearability. 
The watch is powered by a Swiss quartz movement allowing this timepiece to stand up to almost any task you can throw at it. If you are looking for a tough-as-nails dive watch with a tasteful design, the I.N.O.X Professional Diver could be the one for you.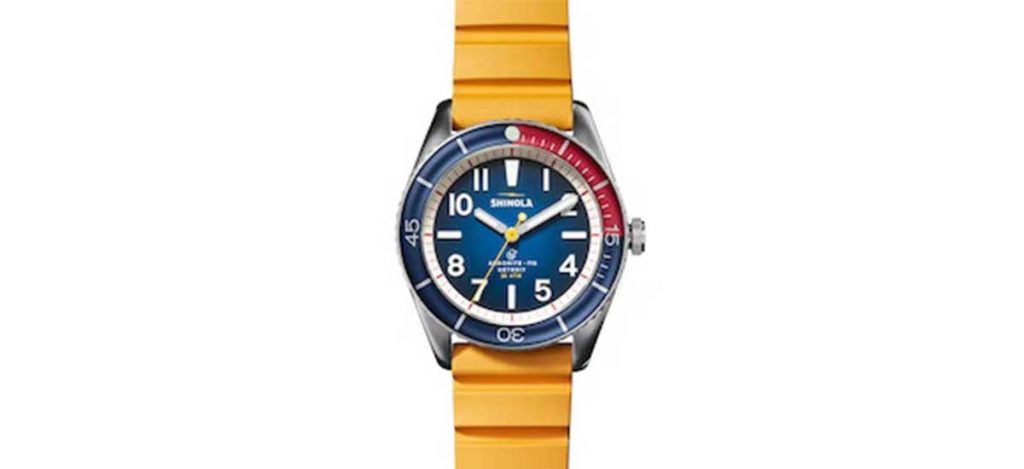 Shinola is a brand that is not on many watch enthusiasts' radars, but maybe it should be. As of late, the brand is paying closer attention to the watch enthusiasts market while still remaining loyal to their fashion-forward fan base that got them where they are today. 
Although they have made some excellent automatic dive watches in the last few years, they do fall outside of our $1000 budget. Thankfully, they have also released something for their more budget-conscious customers as well.
The 42mm Shinola Duck comes at a price of $650 and offers a lot of what has made the brand a success in the mainstream market. The unique colorways, reliable quartz movement hand-assembled in Detroit, and superior build quality and materials to comparable fashion watches have made this watch a great option for the casual consumer. 
The unique vintage dive styling, 200 meters of water resistance, and excellent rubber dive strap have helped to make this fashion watch a suitable option for any budget-conscious enthusiast. If you are looking for a fun watch that can join you on any adventure, the Shinola Duck is a great option.
There is no shortage of microbrands producing dive watches under $1000. In order to stand out from the pack, you need to give consumers something extra. With Maen watches, this comes in the form of affordable timepieces that stand out for their class-leading specifications and their unique take on classic watchmaking design.
The Maen New Hudson in 38mm is now on its 4th iteration. The model features a 38mm case dimension with a standard black dial and handset. The bezel and hands feature red accents that help give this traditional dial just the right pop of color to help it stand out from the crowd. This iteration features a Ronda R-150 automatic movement paired with a beautifully constructed stainless-steel bracelet. 
Maen has managed to pack all of this design and specification in a watch that cost roughly $575. If you are looking for a watch that pushes the boundaries of specifications that are available for $1000 but don't quite feel comfortable stretching to the top of that budget, the Maen New Hudson is a great option to consider.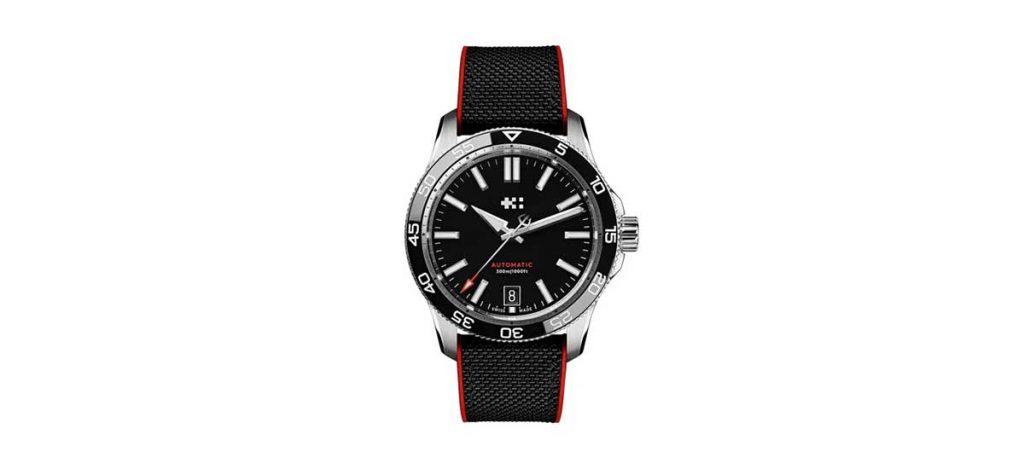 Christopher Ward is a brand known for setting the standard for the quality of watches you can get at a given price point. In many ways, they are the originator of cutting out the middleman, and in the case of Christopher Ward, this statement is more than just a marketing gimmick.
Despite having a very wide product catalog stretching from field watches to high complications like the new Bel Canto, their bread and butter are undoubtedly dive watches. The Christopher Ward C60 Trident Pro 300 comes in a multitude of dial colors as well as 38mm, 40mm, and 42mm to help fit any wrist size.
The newly engineered slim case has helped Christopher Ward achieve a case thickness of just 11mm despite having a commonly used SW-200-1 movement. Miraculously, they have achieved this thickness while maintaining the 300 meters of water resistance and including a sapphire exhibition case back.
This model is paired with an excellent rubber strap and comes at $865. If you are looking for a sleek dive watch that will have no problem sliding under any cuff, the Christopher Ward C60 Trident Pro 300 is a great place to start.
Of the many "Zombie" brands that have been resurrected over the last few years, few have captured the interest of watch enthusiasts like Yema. Their unique heritage designs helped them stand out from the crowd and develop a new era of dedicated loyalists.
Their push into in-house movements and collaborations with military organizations are evidence of their commitment to creating timepieces that appeal to enthusiasts. The Yema Navygraf Heritage is a great entry point into what this brand is all about.
The pops of yellow on the handset are what truly separates this watch from other vintage-inspired timepieces in the market. The engine powering this watch is the Yema2000 in-house caliber, no small feat for any brand at this price point. 
The 39mm case comes paired with a stainless steel bracelet and helps this watch work on many wrists while offering everyday versatility. Coming in at $799, the Yema Navygraf is a great option for anyone looking for a heritage diver with an identity all its own.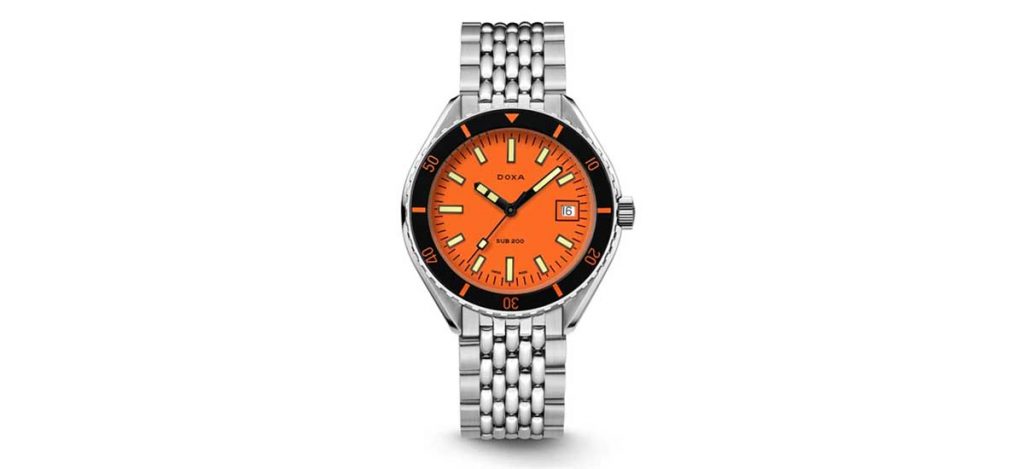 In terms of historical dive watch brands, few garner as much respect as Doxa. Much like Yema, this brand has been resurrected from the ashes, but its mainstream notoriety comes from its historical position as a professional dive watch pioneer.
The Doxa Sub 200 Professional is a slight departure from the design ethos and functionality that the brand is known for, but given the clout that the Doxa name carries amongst enthusiasts, it doesn't seem to matter.
The 42mm case shape shares several similarities to the iconic Omega Speedmaster, which helps it to fit a wide range of wrist sizes, despite its larger case dimension. The watch is powered by the Sellita SW-200-1 and, in this example, comes paired with a well-built beads-of-rice bracelet.
Despite being available in several colors, the Doxa signature orange, known as Professional, is the option I would go with. If you are looking for a watch at just under the $1000 mark, coming in at $990 to be exact, with a real diving history, the Doxa Sub 200 is a great option to look into.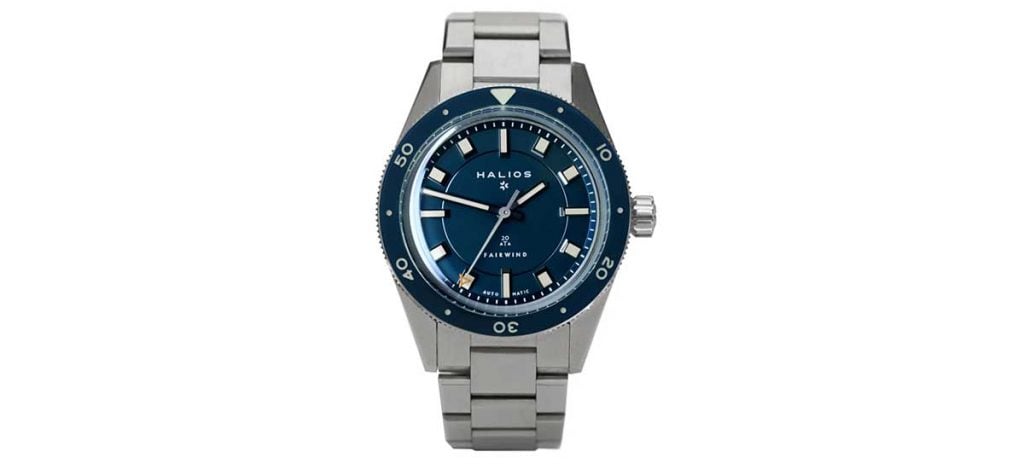 Despite the influx of microbrand watches these days, very few have seen the incredible support of Canadian-based Halios. In many ways, they are the Rolex of the microbrand scene. Their watches require a waitlist and often sell for a premium over list on the secondary market.
One of their most recent models is the Halios Fairwind Bathyal Blue Sapphire Diver. This watch features a perfectly sized 39mm case, a sleek 12.4mm case thickness, and robust SW200-1 movement. The Bathyal Blue color of this dial is stunning. The sapphire bezel is something often not seen on watches under $5000, let alone $1000. 
With its on-the-fly micro-adjustment, the bracelet is one of the best executions of this feature I have seen on any watch, regardless of price. All of that brings me to my favorite aspect of this watch; the price. If you can be patient and get yourself on the waitlist, you will not find a higher quality watch for $775.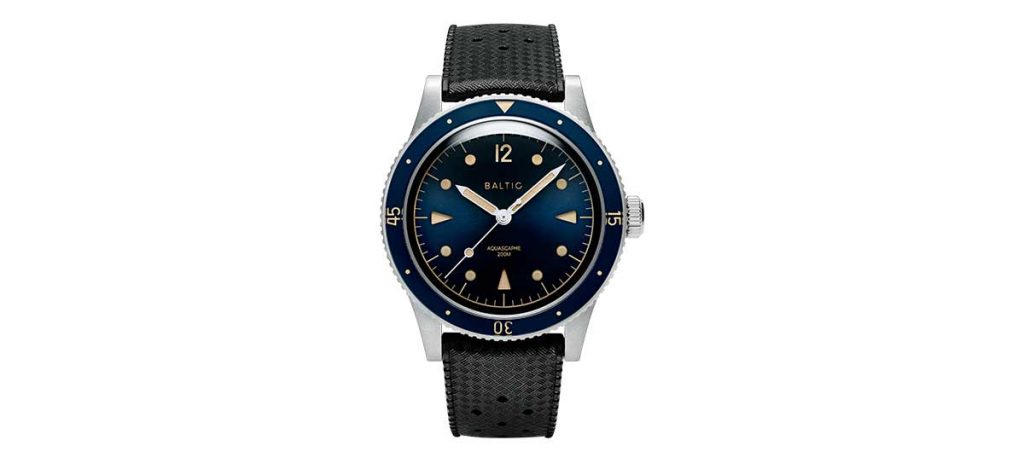 Another microbrand that has gained mainstream notoriety of late is that of Baltic. They have produced hit after hit, drawing upon the vintage archives of the golden era of watch design. Their vintage design aesthetic is executed perfectly and will have others wondering if your timepiece is modern or truly a well-preserved example from the past.
The Baltic Aquascaphe Titanium Blue draws upon that initial design but does something Baltic isn't necessarily known for. They made the watch in titanium, a relatively modern material known for its corrosion resistance and lightness.  
The watch features a 41mm case, is powered by a Miyota 9039 movement, and, thanks to its titanium construction, weighs in at an astounding 55 grams. All of this for a price of roughly $775. If you are looking for a vintage design utilizing modern technology that might make you forget you're wearing a watch in the first place, the Baltic Aquascaphe Titanium might be for you.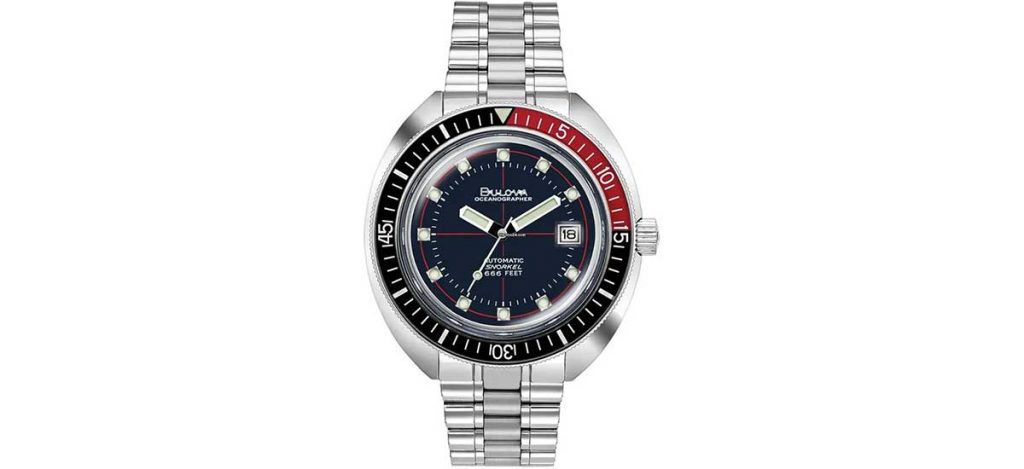 Few brands have a historical archive deeper than Bulova. The Citizen-owned watch brand has several distinct watch designs to its credit. From the Bulova Lunar Pilot that actually went to the moon to the iconic Accutron Spaceview that captured the imaginations of millions.
Despite these signature models, the watch that I was most excited to see reintroduced was the Devil Diver. The Bulova Oceanographer Devil Diver features a 44mm C-Shaped case design that helps this watch fit closer to a 41-42mm on the wrist.
Powered by the 821D automatic movement, the Devil Diver is just as impressive inside as the heritage design on the outside. The Devil Diver gets its name from the 666 ft of water resistance on the original, which thankfully remains but is not embellished.
My favorite colorway of this watch features a green dial with a matching green and black bezel. Coming in at a price of $795, this heritage-inspired design is great for anyone looking for a quality timepiece with a bit of color and history.
Glycine is a very interesting brand. They have a prolific military history that allowed them to become an enthusiast favorite. In 2016, however, the brand was purchased by Invicta. Glycine remains independently operated, but Invicta's influence is starting to creep in. 
For this list, we have focused on the MSRP of the brands we mention, which puts Glycine almost out of reach. Thankfully, there are a few models which manage to squeeze in, but if you are a savvy consumer, there are several deals to be had.
The Glycine Combat Sub Sport is a 42mm stainless-steel model that borrows many of its design cues from the Rolex Submariner. The gilt bezel and writing on the dial are reminiscent of the Tudor Black Bay 58, while the blue color and rubber strap give me Omega Seamaster Professional 300 vibes. 
All things considered, this version actually looks great, even though I personally prefer some of their other Combat Sub models with a stronger military aesthetic. The watch is powered by the same GL224 (Sellita SW200-1) movement as the other Combat Subs and carries with it the same impressive 10.6mm case thickness. 
The watch comes in at an MSRP of just under $1000, which admittedly seems high, but a quick internet search will get this model closer to $500. If you're willing to search for a deal and are looking for a slim dive watch, Glycine is a great place to start your search.
Traska is yet another microbrand that has caught the attention of the enthusiast community. Their vintage designs with pops of color have helped give this brand a unique identity that allows this watch to appeal to a different demographic altogether.
Of all of the entries on this list, the upcoming Traska is the one that had my wife say, "oh, I like that"! As someone not normally attracted to dive watches, her approval says something about the brand. The Traska Seafarer in mint green does not look like many other dive watches on the market.
The dual crown design with the inner rotating bezel gives this watch a dressier appearance than the standard rotating bezel we are all used to. The mint green color with blue accents provides this design with a playful and exciting color scheme.
The 38.5mm stainless-steel case has received a proprietary hardening treatment allowing the case to achieve a hardness significantly higher than standard stainless steel. The watch is powered by a Miyota 9039 caliber and is paired with a well-finished stainless steel bracelet.
Factor in that this "dressier" watch is still capable of 150m of water resistance, and you have a very capable tool watch for $570. If you are looking for a dive watch that is tough but doesn't necessarily look like a dive watch, the Traska Seafarer is a great option to consider.
It seems weird to mention the Apple Watch on a blog aimed at watch enthusiasts, but Apple has been on a tear since releasing its first model in 2015. In many ways, the popularity of the smartwatch mimics that of the Quartz Crisis in the 1970s.
This time, the difference is that brands aren't abandoning everything they know to chase the new technology. It's almost as if the brands strong enough to have survived the Quarts Crisis taught everyone a thing a two. The latest iteration of the Apple Watch, known as the Ultra, was kind of a surprise to me. The beefed-up 49mm case made of titanium is a pretty drastic change to their proven fashion-first approach.
This Apple Watch Ultra is waterproof to 100 meters, far from the highest on this list, but for something that shares more identity with your smartphone than a traditional dive watch, very impressive. When you factor in the functionality that the App Store provides, this watch truly is a force to be reconned with.
Coming in at $799, the Apple Watch Ultra offers a different experience than any other dive watch on this list. If you're looking for a connected option that is well-built and able to stand up to almost any challenge, the Apple Watch Ultra is your best option.
Final Thoughts
There you have it, a list of 25 of the best dive watches under $1000. This list gave a little bit of everything; Swiss-made, Japanese powerhouses, mainstream brands, quite a few microbrands, and even a smartwatch. 
If you're looking for the best option, like anything else, it will come down to personal preference. These are all quality watches that will be more than capable of accompanying you on a swim or any other adventure, regardless of their ISO compliance. Thankfully, coming in at a price of under $1000, unlike my Black Bay 58, you might not have to limit yourself to just one.
Happy watch hunting!