Hamilton Murph 38mm Interstellar Khaki Field Watch Review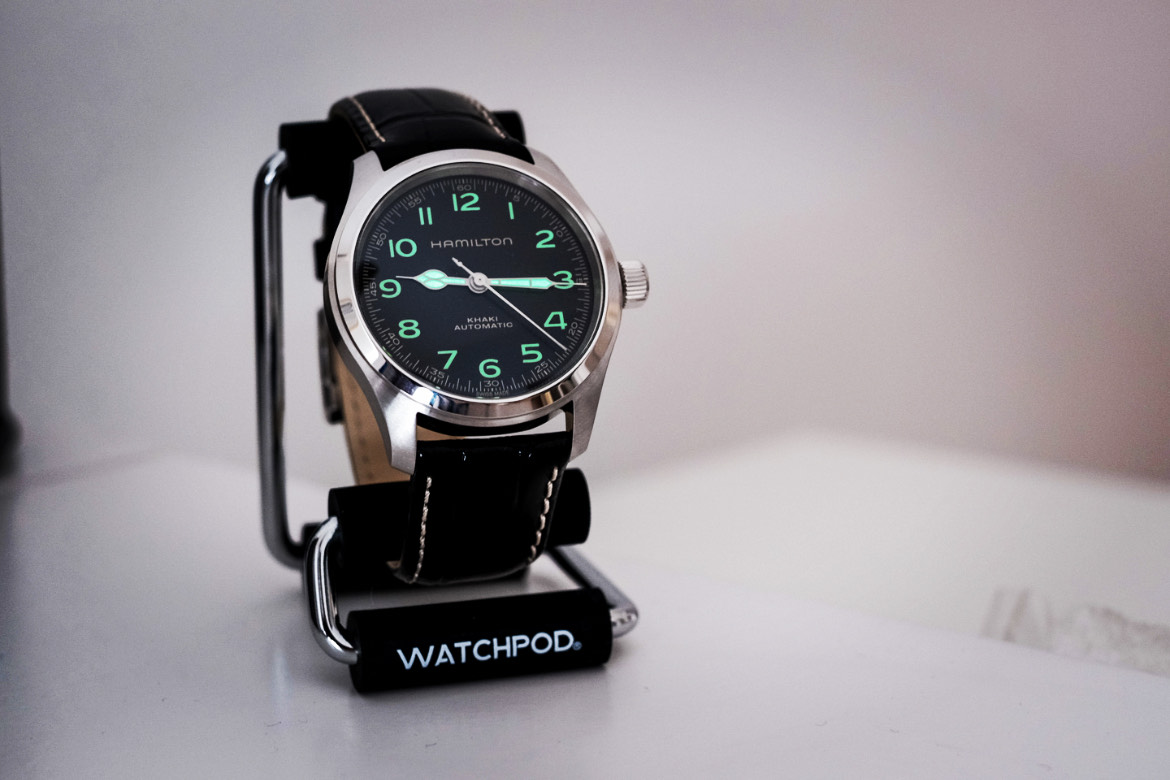 I usually spend a lot longer than a few days with a watch before I review it, but after spending just a few days with the new Hamilton Murph Watch in the small 38mm sizing from the Interstellar movie there's just so much to be said. This is a highly anticipated release from Hamilton, they have been producing the original Murph watch in the larger 42mm sizing for quite some time now.
The watch community as well as the movie buff community have been haggling Hamilton to create a smaller version of this watch, either for those of us who are small wristed or those of us wishing to obtain a classier appearance on wrist. I happen to be in both camps personally and so I was very excited when this watch arrived in our office, and we happen to be one of the first watch publications to receive a piece for review.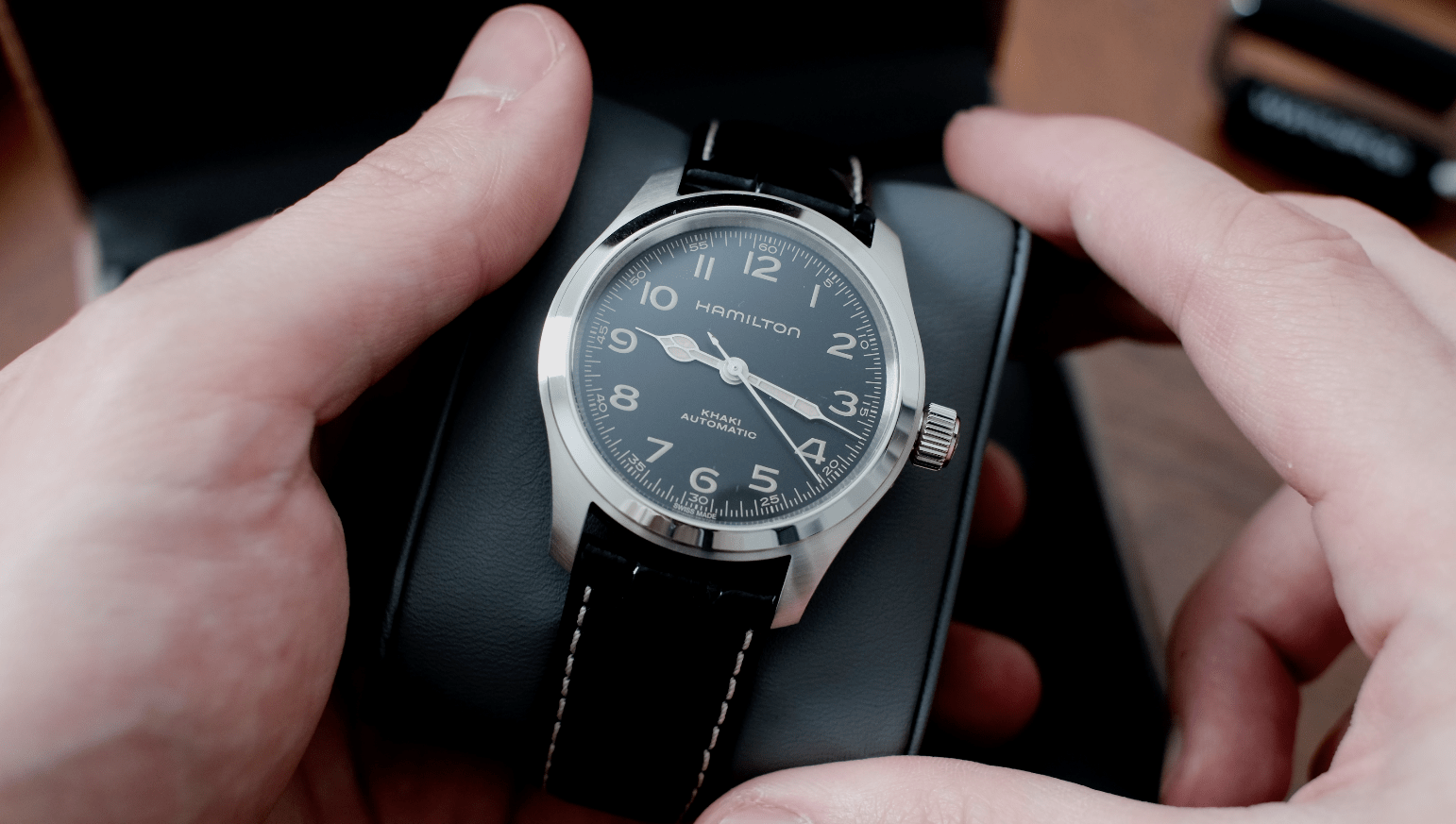 I'll have to admit, I haven't spent a whole lot of time hands on with Hamilton in general, but I do love their regular Khaki Field line as well as their gorgeous Intra-Matic chronograph in 40mm. They make an excellent timepiece at great pricing, Hamilton also has a fantastic backstory emerging out of Lancaster PA, which I wrote about here after experiencing the Hamilton 130th anniversary event.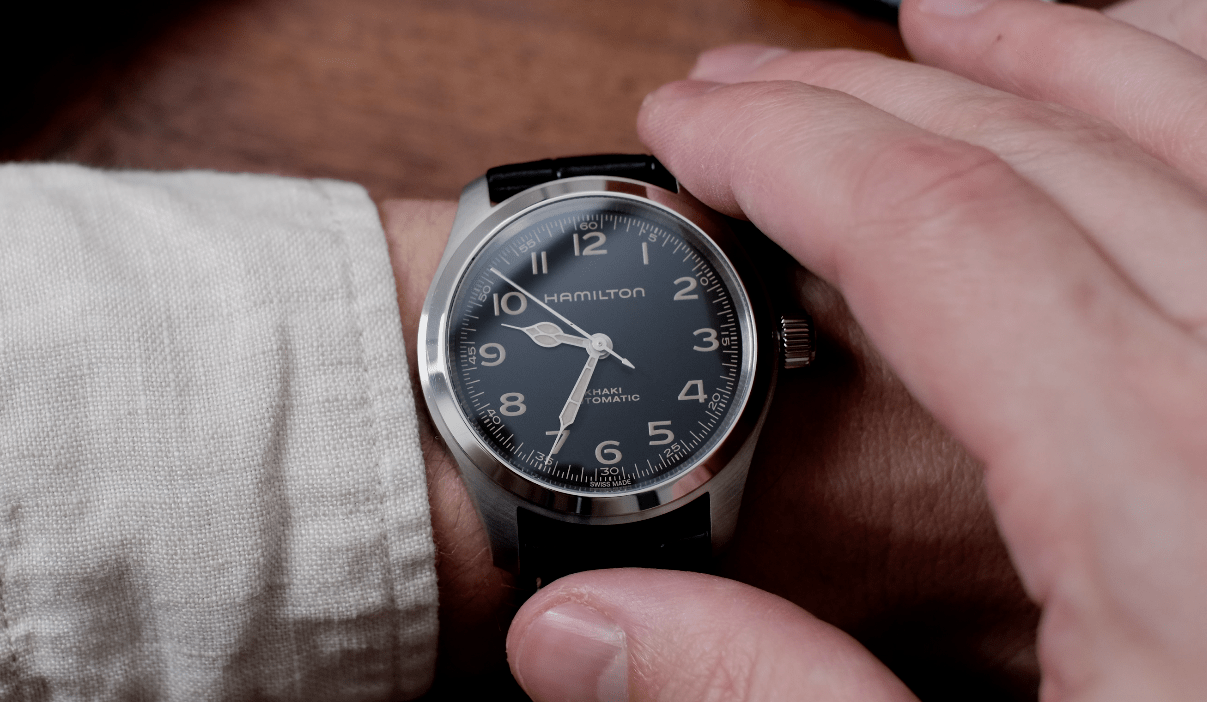 38mm Murph Watch Redesign
The new Murph Watch in 38mm is expertly crafted and is not simply a shrunk down version of the 42mm, after spending some time with it it's quite obvious that Hamilton obsessed over the proportions of this watch – it was not simply scaled down to meet demand. Meticulous attention was given to overall proportions of the case size, lugs, dial room and even various parts like the crown which has maintained a nice chunky size despite the overall size down of the watch.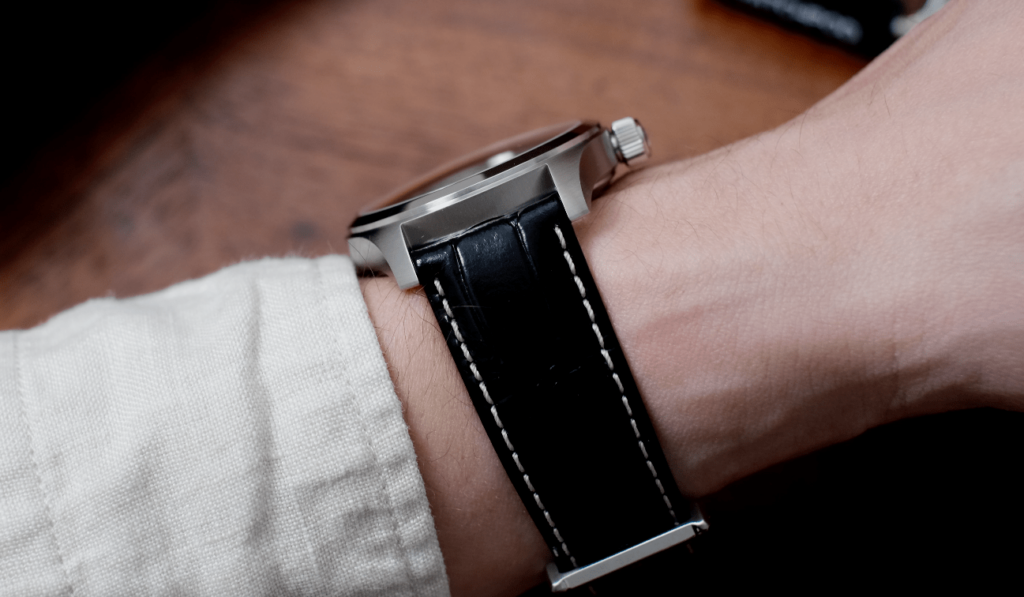 The watch not only looks the part, but it fits and sits very elegantly on wrist, with zero lug overhang due to the tapered and curved lugs being crafted so well. The watch is also very slim adding to its comfort and general visual appeal. While I'm not a fan of faux tan markings on the dial, this watch really suits the look – and with brands such as Patek Philippe embracing this faux colouring as well I shouldn't be one to complain. The dial setup complete with the characterful hands is very simple but executed to perfection – no date wheel or any complications to divert attention away from the well-chosen fonts and earthy colour scheme of the dial. It's clear to me that this watch will take to various types of straps quite well, with a lug width of 20mm and a nice small compact size it should look great.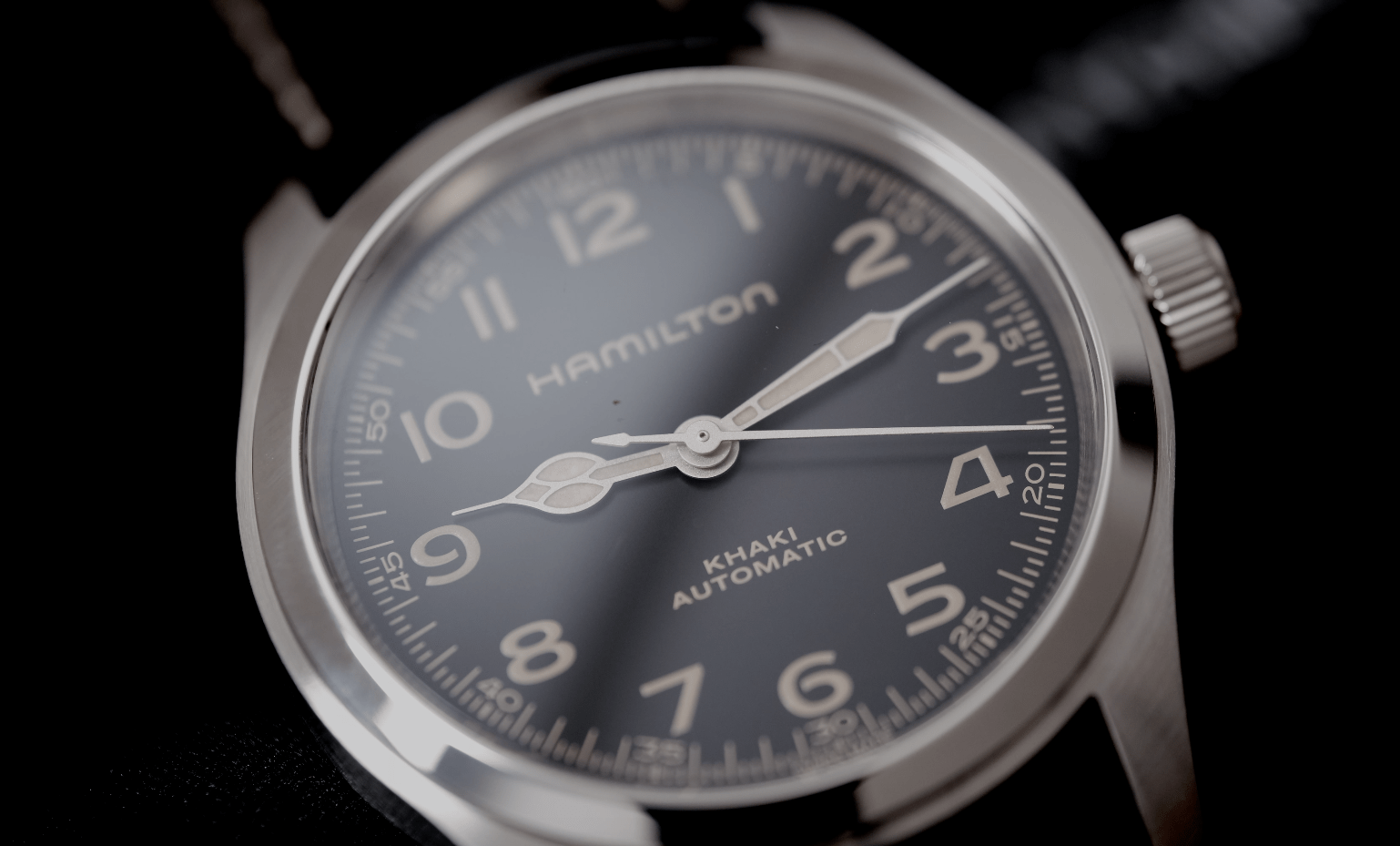 Visual Updates and Movement
The only feature that changed from the 42mm Murph Watch to this now 38mm version is the morse code markings on the seconds hand, which have now been remove, and I find this smaller variant to be more pleasing personally and it's more accurate to the actual film prop used in the Interstellar film.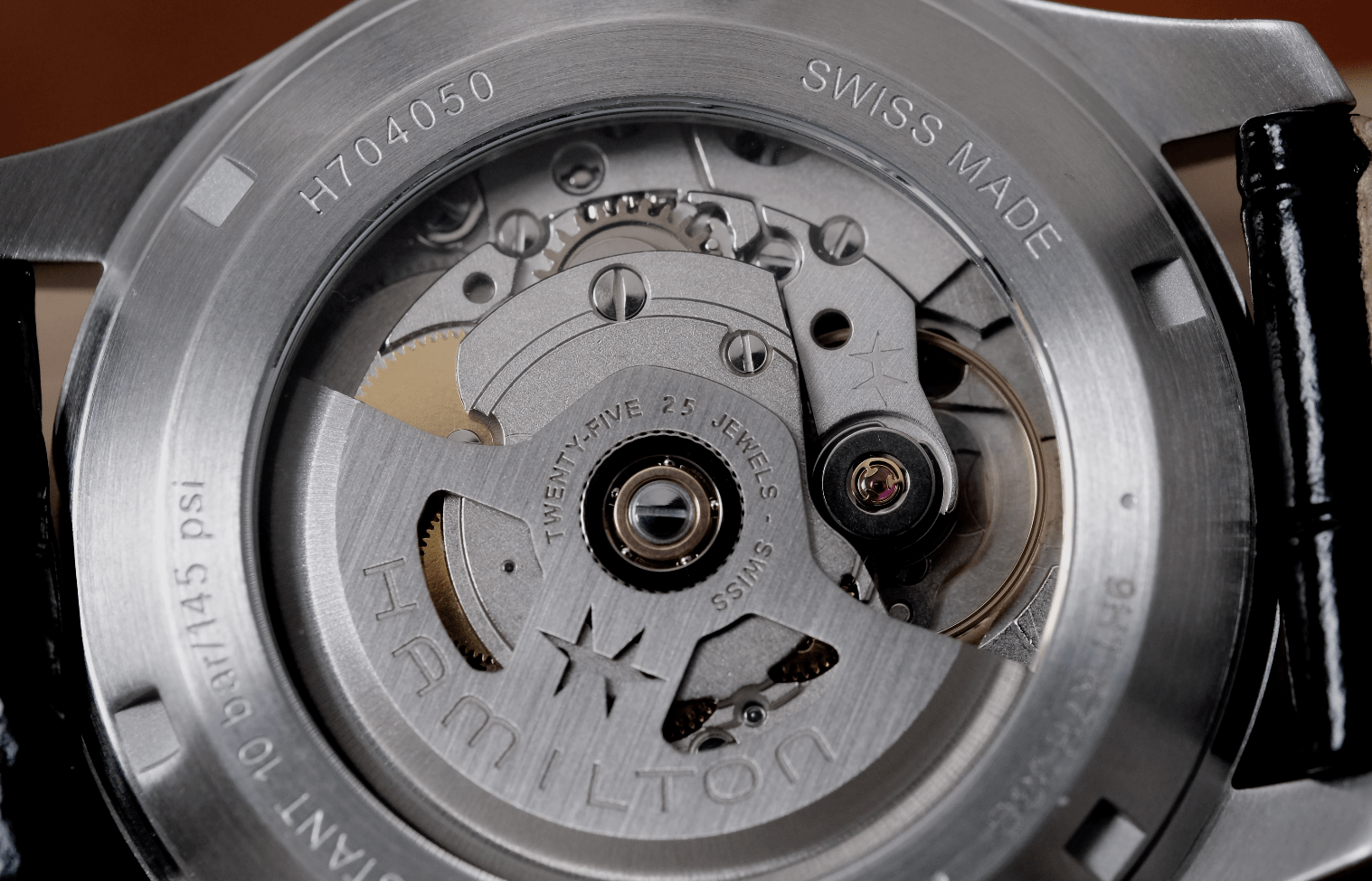 The 38mm Murph Watch even retains the same H-10 movement from it's larger brother which is a modified ETA – and it still sports the generous 80 hour power reserve, that's a lot of ticking time for a small 38mm field watch. The movement, while not really decorated is visible through the exhibition caseback window, it's a great little workhorse movement and is pleasing to observe even with the lack of any haute horology type of finishing.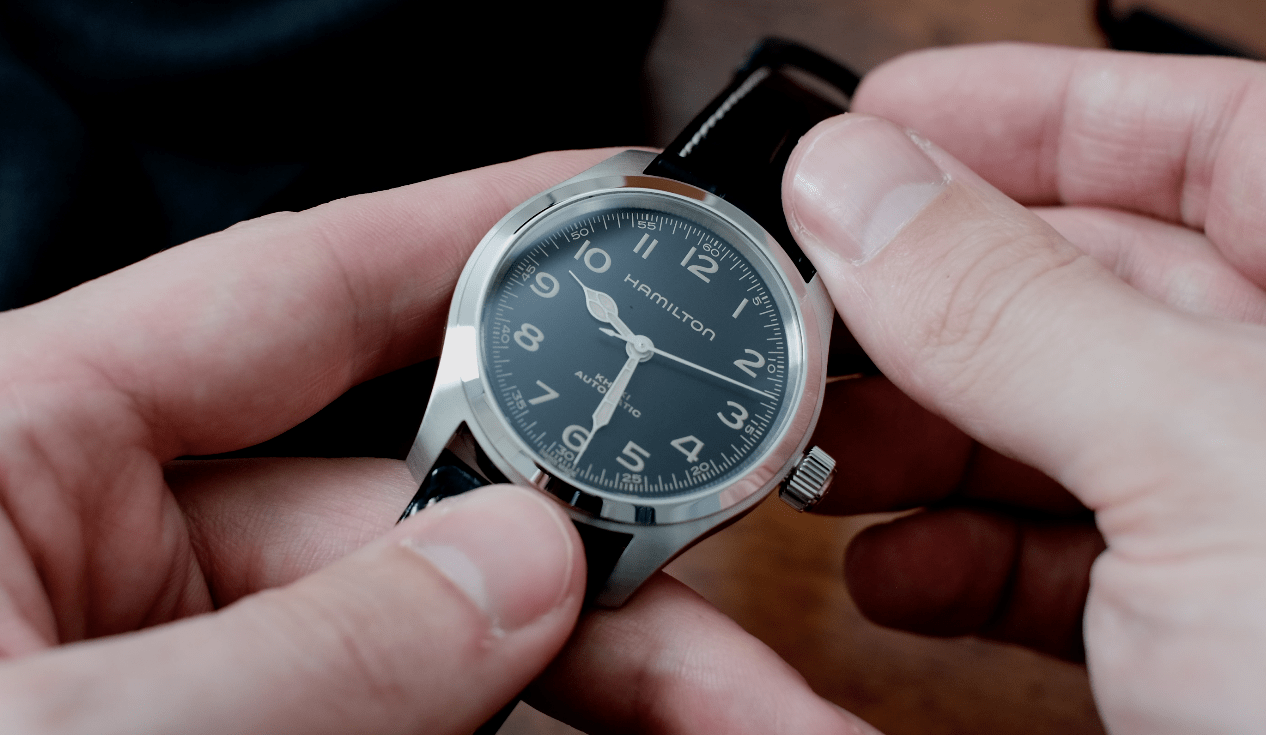 Final Thoughts
Overall I think Hamilton aced this new release in every aspect, this is a huge contender in the affordable or entry level mechanical watch market. It's also the more interesting watch when compared to the regular Kahki Field. If you're a fan of the Khaki Field line but always felt it could use a slight twist of uniqueness this could be a great match for you.
If you haven't yet seen this model in the steel I recommend getting out there and having a look or just blind buying it online – it's that good!
For more information visit the official Hamilton Watches website here.