Owner Review: Torsti Laine – Laine V38 Black Guilloche
The Laine V38. In 2021 I visited Torsti Laine  in Le Locle (Switzerland) for the first time and wrote a longer text about it for Quill and Pad in spring 2022 ("Visiting Torsti Laine"). Torsti Laine was born in Finland and lives and works in the center of watchmaking in Switzerland. He is a graduate of the Finnish School of Watchmaking, and during his career, he has worked for A. Lange & Söhne (Germany) and Kari Voutilainen (Switzerland). Laine's watches have had my attention for quite some time. For months and years, the Laine collection consisted of watches in the typical Laine design (GG3 and Gelidus 3) and with hand-wound movements (base UNITAS) in cases with a diameter of 40,5 mm. Personally, that was always too big for my taste. But soon after Torsti Laine decided to permanently add an execution with a micro-rotor automatic movement (Manufacture Vaucher cal. 5401) to its collection and to offer a case with a smaller diameter of (only) 38 mm and a thickness of 9 mm, it seemed to be the perfect watch from my point of view. And that is precisely because of the key features of Torsti Laine's V38 collection.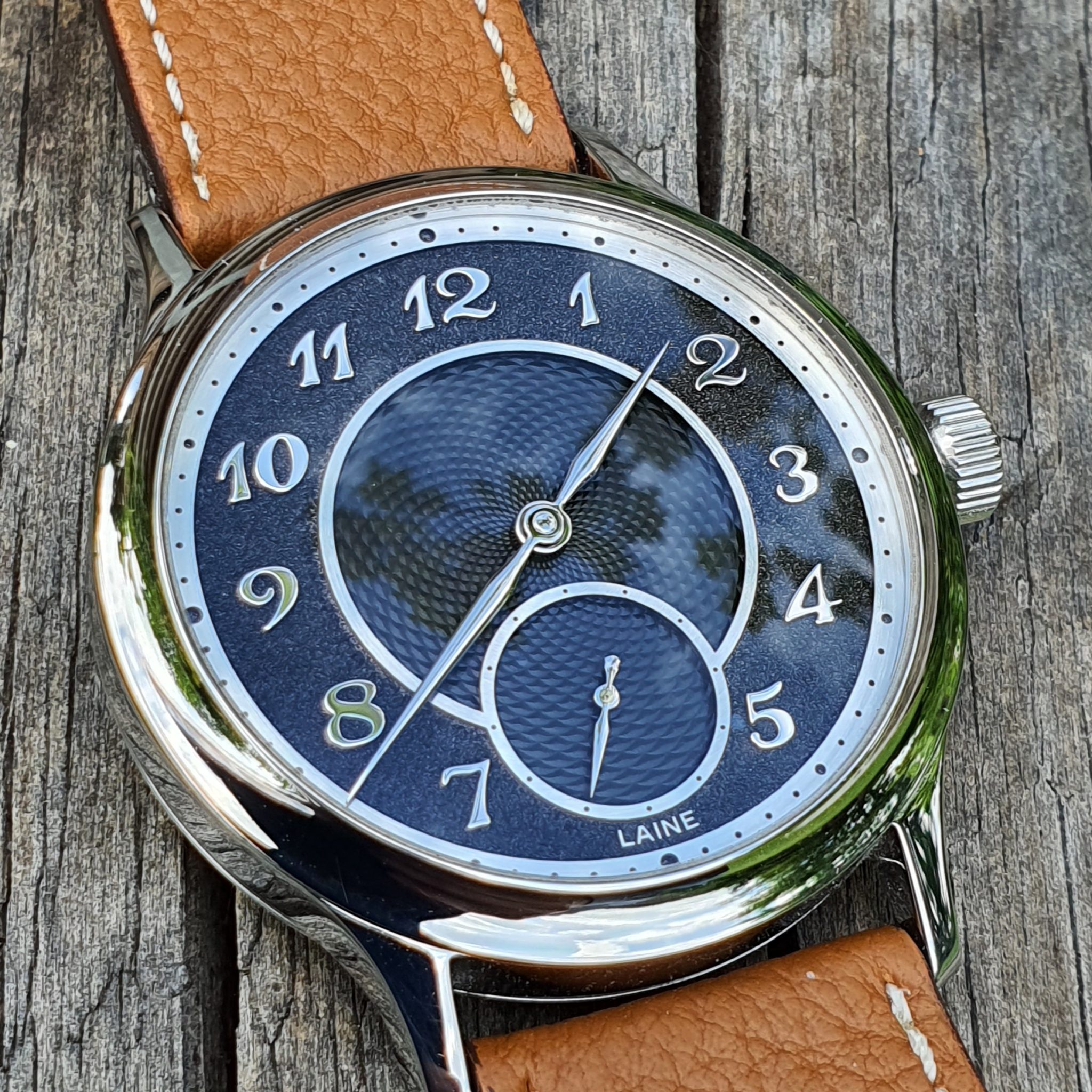 The Laine V38 offers classic design and traditional craftsmanship
All proportions of the Laine V38 seem to be well balanced. Using the craft of Guilloché (rose-engine turning) for the design of the dial might be old-fashioned and traditional – but that's what gives me great pleasure. The design of the applied numerals is made in the beautiful Breguet style. This also fits perfectly with a classic three-hand watch. The contrast between a black dial and the white gold numerals and hands is strong and fabulously legible. Around the Guilloché center of the V38 dial is a moon-frosted outer dial ring for the numerals. If you like you can also decide on a Guilloché pattern for this section of the dial. On the thin outer rim, the minutes are marked with simple dots. The circle for the small seconds is also Guilloché. Laine offers an almost infinite choice of colours for the dial. The three sectors of the dial – center, outer ring, small minutes – can be individually designed. Please notice – there is no luminous material on the dial and hands of a Laine watch nor is there a date window (a huge pro).
Torsti Laine's movement decoration and finishing are outstanding too. The bridges of his movements are sculptured either with signature designs, Geneva stripes, or abstract calligraphy (in cooperation with the Polish designer Tomasz Biernat). I do not know many watches in the affordable independent sector which offer so much effort, dedication, passion and quality in the details.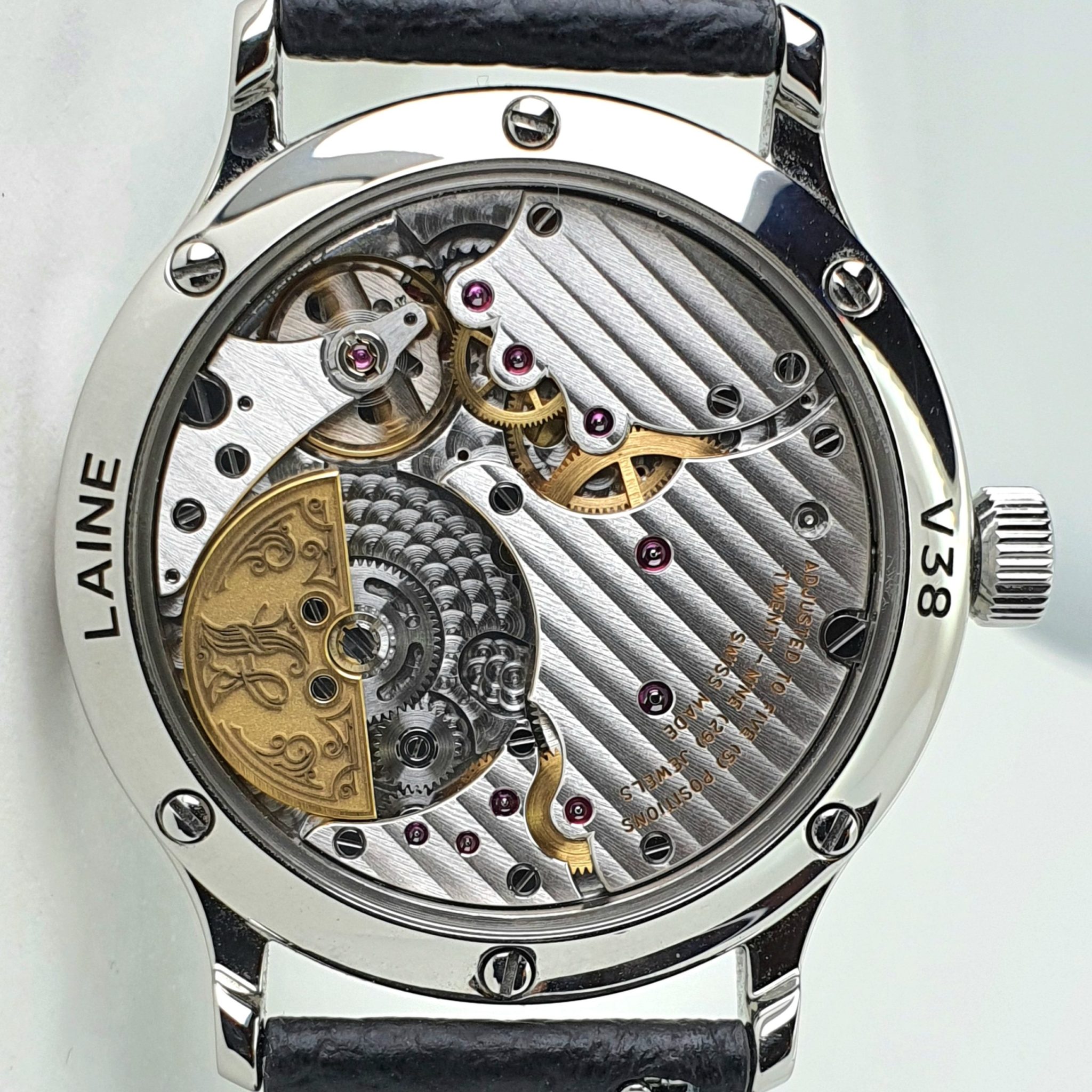 Yes or No?
If you flip through the following criteria, you might find the answer to the "Is-the-Laine-V38-the-Right-Watch-for-me-Question":
1 You are looking out for a beautifully handcrafted Guilloche dial.
2 You like to select a watch out of many many possible options for the dial, the numerals, the movement decoration and the leather strap.
3 You like Breguet style applied numerals.
4 You like a smaller case size.
5 A watch indicating the hours, minutes and seconds is perfect for you.
6 You like micro-rotor automatic movements.
7 The decoration of a watch movement is important for your decision.
8 You feel longer waiting periods are unproblematic.
9 You are searching for very good value for money.
10 You do not need ten arguments to decide on a watch.
Final thought
I was asked "Do you consider it more advisable to put a sum of money like that for a Laine watch into something safer or better known? Is it worth the efford to wait for months and months on a Laine watch?" – my answer is clear and simple: "If you are able to buy something this beautiful for that amount of money in that relatively short period of waiting time, be courageous – you should do it."
The Review
PROS
perfect size (38 mm) and proportions
unique design (movement and dial)
micro-rotor automatic movement (Manufacture Vaucher)
CONS
longer waiting time (that's the way it is)
no date indication (for me it is a PRO)
pin buckle too large and clunky (made for the G3, Gelidus collection)
Review Breakdown
Quality


0%

Style


0%

Value


0%

Wearability


0%